About the Beijing Semester Program
Brockport's semester program in Beijing is a unique program with a lot of flexibility for students. Students that choose to be will be immersed in Chinese language throughout their study. There are also opportunities to take courses taught in English in the fields of economics, business, politics, foreign policy, philosophy, history, art and literature, women's studies and more. Aside from the academic component of the program, students will have the opportunity to take part in social activities and travel to many regions of China.

Beijing is China's second largest city and the political and cultural center of China. It is renowned for its lavish palaces, temples and huge stone walls. It is an ideal location for study abroad students to experience the culture and dynamic energy of China. Brockport's program in Beijing offers students the opportunity to study, participate in an internship, or do a combination of study and a part-time internship.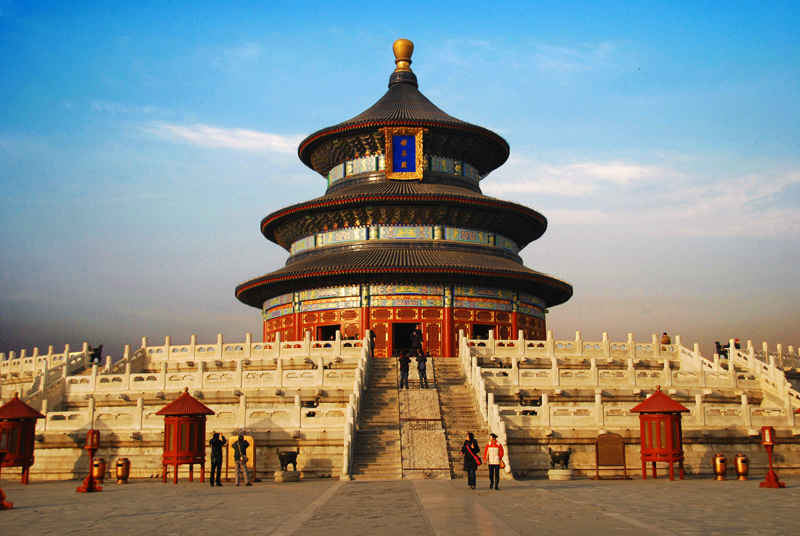 Housing & Orientation
Housing:
On campus dorms:
Peking University has double occupancy dorms for foreign students that are equipped with private bath, air conditioning, TV, internet access, and telephone. The majority of students live in on campus housing.
Off campus hotel:
This option is less expensive, but it may take five to ten minutes to walk from the hotel to campus. The facilities are exactly the same as on campus dorms. In case, on campus dorms are full, the program will contract with the hotel to house students.
Off campus apartments:
Off campus apartments are available on a limited basis and are subject to approval. They are located in Chinese residential neighborhoods with air conditioning, TV, internet access, telephone, bath, plus a kitchen. It may take ten to fifteen minutes to walk to campus. The big advantage is that students live amongst and interact with Chinese citizens, a great way to understand culture and improve language skills.
Homestay:
Homestay is available for immersion Chinese students who desire to mix with Chinese families upon request.
*Note: Chinese roommates are available for the immersion students upon request in off campus apartments.
Activities:
The following activities are organized with the participation of Chinese students in Beijing. The purpose is to increase interactions between American and Chinese College students:
The Great Wall
Forbidden city
Summer Palace
Marco Polo Bridge
Xiyu Village
798 Art Village

There is also a trip outside Beijing. Students have the option to choose from one of three options:
Blue line: Economic Development in Coastal China

Shanghai, Hangzhou, Suzhou, Shenzhen, Hongkong

Red line: History and Culture in Central and South China

Luoyang, Xi'an, Chengdu, Longsheng, Yangshuo

Green line: Ethnic minorities

Xi'an, Chengdu, Lijiang, Dali, Kunming
Cost
Fees for Brockport's Beijing, China Internship and Semester Program
Budget Sheet for Undergrad Program (Fall 2017)
$10,394.24
(Estimated Full-Time Internship);
$14,434.24
(Estimated Chinese Institute of Asian Studies Program)
Budget Sheet for Undergrad Program
(Spring 2018)
$10,404.24
(Estimated Full-Time Internship);
$14,704.24
(Estimated Chinese Institute of Asian Studies Program)
INCLUDES:
TUITION
SUNY International Health Insurance*
Various campus fees** (college fee, technology fee, etc.)
Housing
Program acceptance fee
Pre-departure orientation materials
On-site orientation program in China
Internship Placement (only for Full-time Beijing Internship Program)
Program related travel around China
Student activities and excursions in and around Beijing, and
Brockport's Study Abroad Office Services
DOES NOT INCLUDE:
Passport

Visa

Meals

Airfare to and from Beijing, China

Non-Program travel while in China

Personal Expenses.
Financial aid applies towards fees. Please be sure to check with the Financial Aid Office at your home school. If applying or receiving financial aid, you will need to give the Financial Aid Office (at your home school) a copy of your acceptance letter and budget sheet.

*The SUNY International Health Insurance is mandatory and will be included on the student's Brockport invoice.
**Varies depending on the SUNY campus at which the participant pays tuition.

The cost (and items included in the cost) as listed on the website are subject to change and should be considered estimates. Final budget sheets will be mailed to the student prior to departure and usually upon acceptance.
Courses
China in the Global Economy (3 credits)
This course will examine the evolution of China's increasing role in the global economy. It will deal with different aspects of China's foreign economic relations, including trade, investment, the impact of WTO accession, regional integration and international economic institutions.
Chinese Arts & Culture (3 credits)
This course aims to give students a better understanding of ancient and modern Chinese fine arts (painting, sculpture, architecture, etc), as well as folk and popular arts (crafts, opera and film). A comparative approach will be employed to highlight differences with Western genres.
Chinese Political Reforms (3 credits)
This course aims at understanding the two and half decades of reforms in the People's Republic of China. By discussing the reforms' background conditions, international context, policy options, difficulties, achievements, failures, and possible future, the instructor intends to lead an advanced course on contemporary Chinese political economy.
Chinese Media and Society (3 credits)
This course examines the role of media in contemporary Chinese society in an era of globalization, and changing social structures. The new forms of media, internet and cellphone, as well as traditional radio and TV will be thoroughly explored.
Chinese Women's Studies (3 credits)
The contemporary status of Chinese women and the issues they face will be the focus of this new course. Besides the treatment of women under the old society, most attention will be devoted to women's uphill struggle for equality in the 20th century.
American and China (3 credits)
This course concentrates on Post Cold War events in the context of American predominance, decline of Soviet power and emergence of China as a new force on the international scene.
Business and Marketing in China (3 credits)
This course introduces students to China's multi-faceted business culture as well as practices. It includes topics such as capital markets, banking system, tax structure, labor relations, consumer behavior, government-business relations. It prepares students for both understanding practical aspects of business and starting a career in multinational firms.
Chinese Literature and Society (3 credits)
Chinese culture boasts a rich and sophisticated canon of literary genres and works: the prose of the Han, poetry of the Tang and Song, the drama of the Yuan and the novels of the Ming and Qing. This course is designed to treat this classical tradition as background and goes on to focus on modern Chinese literature, which is primarily literary works by 20th century Chinese authors such as Lu Xun, Ding Ling, Ba Jin, Xu Zhimo, Chen Yinzhen, and Baai Xianyong.
China in Transformation, 1840s-1960s (3 credits)
The course aims at understanding of China's transition from a traditional society to a modern nation by examining the historical forces since the mid-19th century. Nationalism and Communism will be two organizing themes that provide a framework to thread various phenomena all the way to Chinese Communist victory in 1949. The post Mao reforms that undid China's communist economic system will also be discussed.
Rural Economics (3 credits)
This course is designed to help students understand the rural dimension of China's economic transition. It examines the impacts of economic reforms on the life of Chinese peasants, including the effects of marketization and globalization on income structure, labor mobility, ownership rights and other major aspects of the rural economy. It also provides an overview of the implications of the changing economic landscape for social and political development in rural China. The reading materials include a diverse and balanced collection of studies done by both external and domestic specialists.
Philosophy and Science in Pre-modern China (3 credits)
By examining Chinese philosophy, science and technology, this course will elaborate on the relationship between culture and the advancement of science and technology in Chinese historical contexts. It seeks to explain both the preeminence of Chinese tradition and, so some extent, the lack thereof in modern times as a result of East-West encounters.
International Finance (3 credits)
This course focuses on international financial markets, exchange rates, China's balance of payments.
Business Strategies with Chinese Characteristics (3 credits)
This course discusses business strategies in Chinese cultural contexts. The Classics, such as the Art of War and 36 Strategies will be used to analyze contemporary cases.
Language Reforms in Modern China (3 credits)
As part of the efforts to westernize China, leading Chinese intellectuals in the 20th century tried to rid the nation of Chinese characters, the only living hieroglyphic language. The course traces the rationale, the cultural conflicts and the ultimate failure of this iconoclastic movement..
Independent Studies (1-4 credits)
Independent studies can be arranged with faculty. Topic range covers research projects from contemporary political, economic, and diplomatic issues to historical inquiries. Different credits will be rewarded in accordance with the amount of research work.
Chinese Language (non-immersion track)
Language classes have three levels, elementary, intermediate, and advanced. Tutorial sessions will be available upon request.

Chinese Language I (6 credits)
Through intensive instruction and pattern drills, the elementary level class will not only introduce students to Chinese language but more importantly will help students to master basic spoken Chinese. At the end of the course, students should achieve a level of functional Chinese in daily life.

Chinese Language II (6 credits)
The purpose of the intermediate level class it to help students increase reading comprehension as well as oral proficiency in Mandarin. After this class, students will independently learn Chinese on their own and participate in advanced language training course either in the US or in China.

Chinese Language III (6 credits)
Students in the advanced class will learn to appreciate various unique aspects of written and spoken Chinese. Chinese will be the language of instruction with the purpose of reinforcing students' skills in speaking, listening, reading, and writing. Also, introducing and discussing important aspects of Chinese culture and current news will become an integral part of the advanced level.
Chinese Language Immersion Track (12 credits)
This is a new program for the language serious students. The class size is small with one on one drills.
Immersion I
The immersion Chinese Language classes are designed for advanced language students. They normally meet three hours in the morning and two hours in the afternoon daily, five days a week, except Friday afternoon, including two hours of lecture and drill, two hours of language task session, and a one-hour individual session (one-on-one). In addition, there is a language table every Wednesday. Students should be aware that the immersion course is very demanding. In addition to the five daily hours of class, students should expect to spend at least another three to four hours in class preparation and self-study daily.

Immersion II
The format is the same as Immersion I, except that this is more advanced.

Chinese Folklores ( 1 credit, spring & fall )
This course is for students on Chinese immersion track. The instructor will discuss Chinese cultural traditions, religions, and all kinds of social practices that permeate Chinese life. It is four weeks in length and readings will be selected from books, articles, and contemporary news.

Social Issues (1 credit ,spring & fall)
To understand contemporary social issues by reading and discussing is the purpose of this course. Among the major topics are peasant laborers in cities, education, environment, etc. Students will conduct interviews, by using Chinese, as part of this class.

Popular Culture(1 credit, spring and fall)
The focus of this course is on the youth culture, music, movies, TV programs, and the emerging internet culture. Interactions with college students forms part and parcel of this attempt to understand China's youth.

Martial Arts and Calligraphy ( non-credit)
These courses are designed to enrich students' lives in Beijing as well as helping them understand specific aspects of traditional Chinese culture.

*Classes are subject to cancellation if enrollment is below 5 except language classes.

View a list of the possible academic subjects offered by the Beijing Semester Program as well as all of Brockport's university programs in Asia, here: Academic Subjects- Programs in Africa and Asia.pdf
Internships
Two Options:
A 3-credit part-time internship option for the same price as the full-time study program. Students take 12 credits of class work plus a 3 credit part-time internship.
A full-time internship option for students at a different cost (see cost section above).

These full and part-time internship options provides students with intensive career and academic experiences. Students will engage in rigorous professional tasks with leading global and domestic companies and organizations in China. Internships are tailored to the distinct needs and interests of each intern and a weekly internship seminar will be held to discuss China's business culture and environments. Placements are available in the following fields: business, media, non-governmental organizations (NGOs), non-profits and law.
The following is a partial list of recent internship hosts:
Business

Aigo
Haidian Hospital
Alliance Digital. Inc
Horizon Research Group
AmCham
Montrose Food & Wine
ASIMCO
Motorola
Days Inn
PRI, USA
Edelman
IDC Consulting
Eyou
TNS Consulting
Evergreen International Airlines
Fedex-kinko
Guangda Bank
Bradmark Technologies
Powell Tate Consulting
Tianyu Xingye Investment

Media

NBC
City Weekend
CNN
Sky News
Hollywood Reporter
LA Times

NGO and Non-Profits

Asia Foundation
China Sustainable Transportation Center
Children's Foundation
Policy Research Center
China Youth Foundation
UNIFEM
Global Village
UNAPCAEM

Law Firms

Gravey, Schubert & Barer
Lehman, Lee and Xu
T & D Law Firm
ZY Partners
JP Lawyers
Women's Legal Assistance
Credits and Grading
Part-time Internships:
Students are expected to work two full-days per week during the semester.
3 credits will be granted after completing 180 hours of work at the internship.
Grading: Interns willl be required to submit weekly journals, maintain an activity/attendance log and write one 5-page paper. These assignments will be submitted by e- mail to the instructor in Brockport.

Full-time Internships:
Internship Seminar
Generally, interns work four days per week, eight hours per day for the length of the semester. A weekly internship seminar will be held to discuss China's business culture and environments, issues arising from work, etc. The seminar will be one hour in length on Friday afternoon.
Grading
Interns will be required to submit weekly journals, maintain an activity/attendance log, write two 5-page papers. These assignments will be submitted by e-mail to the instructor in Brockport.
Student Testimonials
"China is unlike anything you'd expect. The program is phenomenal, the people are unforgettable, and the experience is priceless. My travels and studies in China have provided limitless possibilities in my personal, spiritual and academic life. It has been my cradle, and I could never regret it."
-Heather Benson
Dates
Spring 2018 (Est.) January 12, 2018 - April 29, 2018
January 12: Arrival
January 13-14: Orientation
January 15: Classes begin
February 15-21: Spring Break
February 22: Classes resume
April 9-13: Classes and Finals
April 14-27: Study trip around China
April 28: Commencement
April 29: Departure
Important note: Please do not book your travel arrangements until you have received the official Travel Memo from your program advisor.