About the Greece: Food, Culture and Museum Studies in the Mediterranean Program
The word "museum," is derived from the ancient Greek word meaning "the place where Muses dwell." We track some of those Muses as well as the gods, goddesses and sacred narratives that informed life in Italy and Greece in our journey from Tuscany, Italy to Athens, Greece and three Cycladic islands! From our starting point at the 16th century Renaissance "Studiolo" of Francesco de' Medici in Florence to Akrotiri, the Minoan Bronze Age settlement on the volcanic Greek island of Santorini, Greece, the three week course encompasses visits to over 10 museums and 5 UNESCO World Heritage sites.
Our program is simultaneously based on a hands-on learning process focused on the senses-- the sight, aroma, and taste of the diverse foodstuffs that comprise the acclaimed Mediterranean diet. Through study of the collections of art, artifacts and statuary in the museums and talks with local experts, students learn how the cultivation and trade of foodstuffs like olives, grains, and grapes played a major role in the development of ancient Greek and Roman civilizations. Most important, they experience the relationship of food to contemporary Italian and Greek cultures through their encounters with local cuisines and the peoples that produce them.
In this journey across the Mediterranean you will interact with local peoples and diverse geographic locations, experiencing how the Mediterranean diet (derived from wild and cultivated sources like olives, olive oil, wine, honey, grains, legumes, nuts, seafood and meats) is not just a way of eating---but a lifestyle rooted in sustainable community-based food production and long-standing cultural traditions of music and dance!
Read students' comments and see pictures from a previous summer program at this blog site:
http://atasteofgreece.wordpress.com/
Starting in region of Tuscany and the city of Florence, Italy we trace the development of museums by visiting the Studiolo of Francesco I de' Medici, Grand Duke of Tuscany (completed between 1570-1572). This early "Cabinet of Curiosity" (also known as Kunstkammer or art and wonder-rooms) originated in Renaissance Europe and evolved through the Enlightenment period into contemporary museums. During our stay in Florence, we spend time browsing at Florentine markets and dine at restaurants that specialize in Tuscan cuisine. We stroll through the 16th century Bobolino Botanical Gardens, a magnificent open-air museum with statuary, fountains and cultivated gardens created for the Medici. We also tour the first Natural History Museum, "La Specola" situated near the Pitti Palace. Officially inaugurated in 1775, it was the only scientific museum specifically created for the public until the early years of the 19th century. In world-famous museums like the Uffizi Gallery and The Galleria dell'Accademia we view some of the greatest artistic masterpieces of the Renaissance and learn how Italian artists emulated classical Greece.

Continuing our study of museums and food and culture of the Tuscan region, we travel to the beautiful medieval hill town of Siena. We visit a "paneforte" food production site (traditional Tuscan dessert containing fruits and nuts) and hear a talk on "The History of Italy Through its Cuisines" by a professor at the University of Siena. A representative from the university gives us a tour of Siena's main square, Piazza del Campo, home to Siena's stunning town hall, which sports some of the finest works of the Sienese school of painting. From this experience we learn about the association between galleries, museums and civic culture. On our last day in Siena we tour Opera del Duomo and Siena's cathedral which houses a Baptistery with works by Donatello. Nearby is Santa Maria della Scala Museum which had an open door for pilgrims, orphans and the poor. Its frescoes tell the fascinating story of what life was like inside these buildings from the Middle Ages onward. Part of the museum is dedicated to Roman and Etruscan archaeological finds.

After five days in Tuscany, we travel to Athens, Greece where we are greeted by representatives from the Athens Centre. We attend lectures on Greek mythology and art, exploring its relationship to native plants and foodstuffs. We make a visit to the central market and new Gastronomy museum in the center of Athens and learn about the production of olive oil and its role in ancient and modern Greek culture. A guided tour of the ancient Acropolis, built in the 5th century BCE, site of the Parthenon and the Pinacotheca, one of the first picture galleries, reveals the buildings were dedicated to the goddess Athena, commonly associated with the olive tree. We also tour the Ancient Agora, view a temple dedicated to Demeter, the goddess of grain and note the vital ways the marketplace was at the center of Greek philosophical thought, democracy and artistic endeavors. Over the course of our time in Athens, we also tour the world-famous Acropolis and Benaki Folk Art Museums and take a day trip to ancient amphitheater and healing center at Epidauus which further underscore the relevance of food in ancient and contemporary Greek life. Focused on the gods and goddesses associated with early medicinal practices, the museum of medicine in Epidaurus reinforces the links between spiritual beliefs, music, dance, food, and health.

After six stimulating days in Athens, we set out for the Greek Cycladic islands of Naxos, Paros and Santorini. Over the next ten days and relaxing trips by ferry boats through diverse island landscapes, we come to learn about the roots of ancient Cycladic art and civilizations and their connections to the biodiversity of local plants and food stuffs. Visits to several small but powerful Cycladic Art museums and marble mines, food production sites and meetings with local beekeepers, cheese and wine makers, and fishermen reveal the lyric history, beauty, and healthful practices associated with island life. Before arriving back in Athens where we present some of our findings at the Athens Centre, we spend our last three days on the island of Santorini, where we visit a Museum of Pre-history and Akrotiri, a Bronze age village site. Ancient wall paintings testify to the ways in which Greece's prehistoric cultures were intricately linked to the vast bounty of the Aegean and Mediterranean Seas.

Please contact faculty-leader, Dr. Christine Zinni at czinni@brockport.edu for more information.

Housing and Orientation
Housing in Athens will be in the Athens Centre apartment in Mets near the ancient pan Athenian Stadium. Students will stay in hotel accommodations (doubles or triples) in Italy and for the duration of the program on the Greek islands.
Cost
Greece: Food, Culture and Museum Studies in the Mediterranean Summer Program

TBD
INCLUDES:
Tuition (3 Credits)
Program Acceptance Fee
Pre-departure orientation materials
On-site orientation
Accommodation in double or triple occupancy hotels
Most meals (breakfast, lunch and some dinners)
Flight between Italy and Greece
In country transportation
Program activities and excursions
Museum entry fees
24 Hour Emergency Assistance
Brockport's Study Abroad Office Services including a Brockport Faculty director
Health Insurance*
Various campus-specific fees** (college fee, technology fee, etc.)

Does NOT include:
Transportation to/from Italy
Passport
Some meals
Miscellaneous Expenses
The actual amount that you will spend depends heavily on your style of living, and will vary with each individual's personal spending habits, entertainment preferences and travel choices.
Financial aid applies towards fees.
*The SUNY International Health Insurance is mandatory and will be included on the student's Brockport invoice.
**Varies depending on the SUNY campus at which the participant pays tuition.

*This summer program is contingent upon having a sufficient number of participants enrolled in the program.
Courses
Students will earn 3 upper-division credits.
2016 Itinerary:
We begin our exciting Food, Culture and Museum Studies program in the Mediterranean in the region of Tuscany and the cities of Florence and Siena. Open air-museums of Renaissance and Gothic art and architecture, they also offer some of the finest markets and gastronomic delights. Best of all Florence and Siena are great walking cities—the majority of the town squares, sites, museums and restaurants we visit are reachable by foot--only a short distance from our hotel.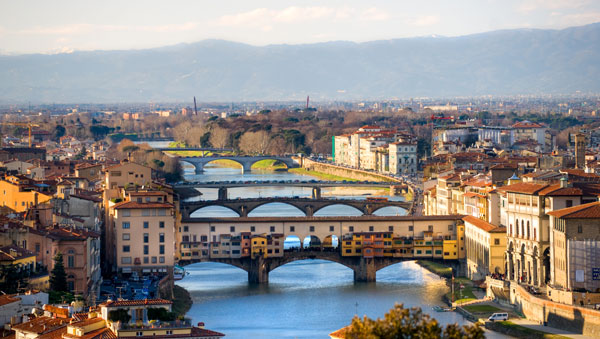 Ponte Vecchio, Florence
Monday May 16th
Arrival Florence
Check in at Hotel, Lunch
Orientation and introduction by representative of Accademia Italiana
On our first day in Florence, we are welcomed by a representative of Accademia Italiana, experience a famous Tuscan meal, visit the Pitti Palace and Piazza Santo Spirito and walk through one of the most famous landmarks in Florence, Ponte Vecchio with beautiful goldsmith shops to the great shopping street, Via dei Calzaiuoli, connecting Piazza Duomo to Piazza della Signoria. We arrive at the heart of the historic city center with its beautiful statues and the Loggia della Signoria with famous cafès where you can sit and people watch.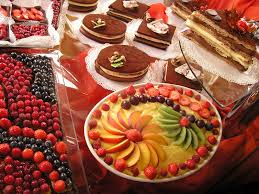 Tuesday May 17th
Lecture/Discussion
Tour of Historical Center with professor affiliated with Accademia Italiana / Museum Visits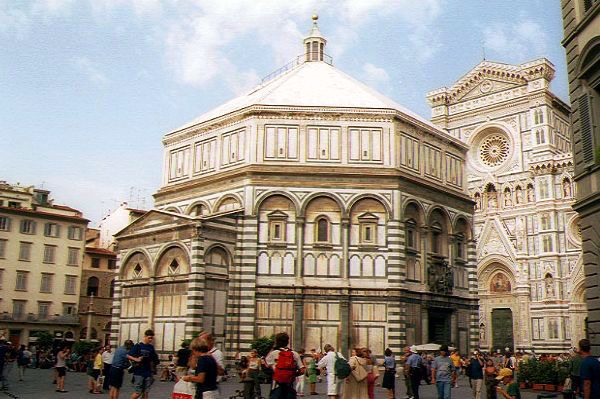 Piazza della Repubblica, Florence
On the second day of the program, we visit The Galleria dell'Accademia and see Michelangelo's "David". We are also given a tour of Florence's historic city center by a renown expert of Florentine art. We learn about the famous Piazza della Repubblica and Piazza Duomo with its beautiful Cathedral of Santa Maria del Fiore, the terracotta Cupolo by Brunelleschi, the Baptistery and climb up Giotto's Bell Towers. In the afternoon, we visit The Bobolini Botanical Gardens and one of Europe's earliest Natural History Museums, "La Specolo".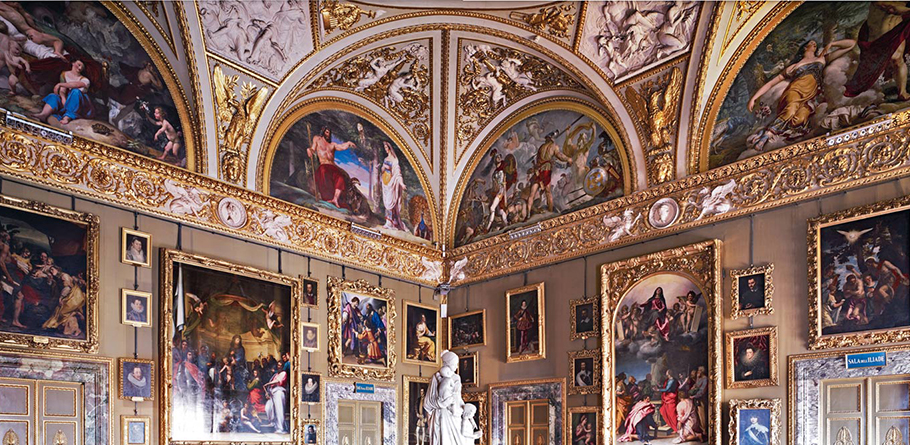 Uffizi Gallery, Florence Tuscan Meal, Siena
Wednesday May 18th
Lecture/Discussion
Visit to Uffizi Museum and "cabinet of curiosity", the Studiolo of Francesco de' Medici
Travel to Siena in late afternoon/evening
Check in Hotel
Welcome by representative of University of Siena Italian Studies Program
Meal at famous Sienese restaurant
On the morning of the third day, we visit the famed Uffizi Gallery next to Palazzo Vecchio which displays unique masterpieces such as the The Birth of Venus by Botticelli. and da Vinci's "Annunciation." One of the oldest museums of the world and perhaps the finest example of the Medici Family patronage, it houses one of the most important collections of the Italian Renaissance. Close by is the barrel-vaulted Studiolo of Francesco de' Medici one of the earliest "cabinets of curiosities" in Italy. It features 34 paintings based on Greek and Roman mythology. In the late afternoon, we travel to Siena, considered Italy's loveliest medieval city. We are greeted by a representative from the Italian Studies program at the University of Siena.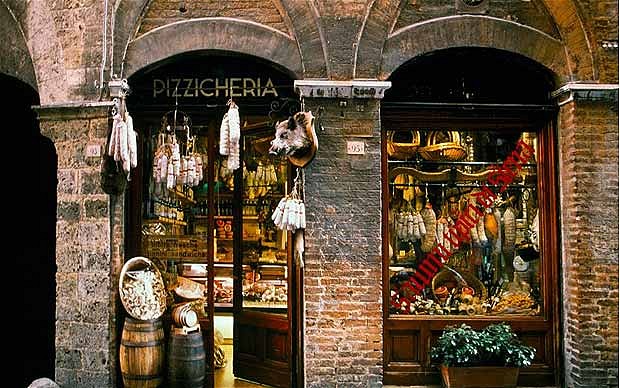 Sienese Food Shop
Thursday May 19th
Tour of Piazza del Campo and museums in Siena's Historic Center like Santa Maria della Scala Museum
Lecture on "Italian History through its Cuisines" by expert at University of Siena
Tuscan Food Tasting
Friday May 20th
Lecture/Discussion
Travel from Siena to Florence/Pisa airport
Arrival Athens
Check into apartments
Walking tour of neighborhood (depending on time of arrival)
Welcome Dinner with program director of Athens Centre
The Parthenon, Athens, Greece
From Italy we travel in the great capital city of Athens, Greece, mythological home of the goddess Athena. The city is located on a broad peninsula that juts out into the Aegean Sea. Our group is welcomed by the Athens Centre, http://athenscentre.gr, a noted Language and Cultural Centre located in Mets, one of the city's most vibrant neighborhoods. View a video of the Athens Centre, here:
http://www.youtube.com/watch?v=nHQQYP0XL68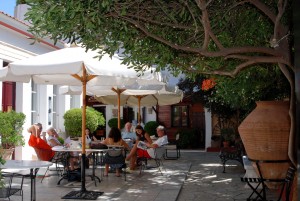 Students in Courtyard of the Athens Centre
From the vantage point of an intimate courtyard setting at the Athens Centre, students will learn how ancient foodstuffs like olives, wine and honey hark back to the mythology of Ancient Greece and lore of gods and goddesses. The links between ancient and modern are further enhanced through first hand experience and guided tours of the Acropolis, Acropolis and Benaki Museums and the new Gastronomy Museum.
An Olive Oil Tasting event at the Athens Centre, an informational tour of the central market and a day trip to the Peloponnese Peninsula to visit the seaside town of Nauplion and the ancient healing center of Epidaurus is also featured.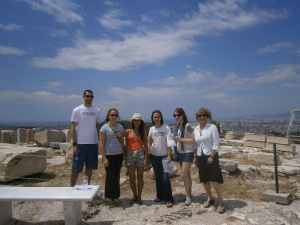 Students from 2012 trip, Acropolis, Athens, Greece
Saturday May 21st
Orientation/Lecture at Athens Centre
Tour of Local Pangrati market and/or Central Market and Gastronomy Museum
Food demonstration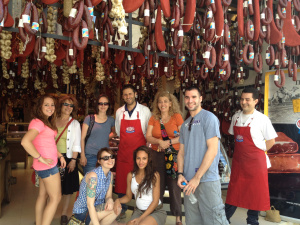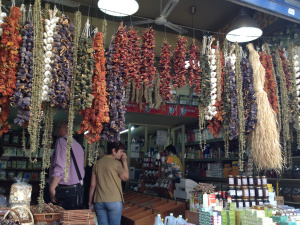 Students, Central Market, Athens (Courtesy of Tiffany Staats)
Sunday May 22nd
Lecture/Discussion
Free Day
Acropolis Museum, Athens, Greece
Monday May 23rd
Lecture/Discussion at Athens Centre
Tour of Acropolis Museum by local archaeologist
Lunch near Acropolis
Tuesday May 24th
Tour of Acropolis & Ancient Agora by local archaeologist
Evening: Talk on Olive Oil production and tasting at Athens Centre
Wednesday May 25th
Day Trip to ancient amphitheater and healing center and Epidaurus
Lunch in lovely seaside town of Nauplion
Nauplion, Greece
Thursday May 26th
Lecture/Discussion
Tour of Benaki Folkart Museum by instructor
Leave Athens by ferry for Greek island of Naxos (four hours)
Check in hotel in Naxos
Naxos, Greece
Friday May 27th
Breakfast near the seaside & Discussion
Visit Naxos Museum of Cycladic Art
Tour of Olive Oil Museum and Tasting of local products
Tour of Local Cheese Factory
Free time
Ferry to Paros (circa one hour)
Paros, Greece
From Athens we travel by ferry to three Aegean islands in the Cyclades that have a long history dating back thousands of years. First, the island of Naxos-- noted in ancient mythology as the island where the god Zeus grew up, Dionysus was born and Ariadne was brought after Jason slew the fabled Minotaur on the island of Crete. A mountainous and agricultural island, Naxos boasts the highest peak in the Cycladic island chain. We visit the Museum of Cycladic Art, an Olive Oil Museum and a local production facility known for its delicious cheese. Our meals on the island there will be made from a variety of locally grown vegetables and fruits along with meats like grilled lamb and fish like octopus and squid. Regional specialties include cheese, sausages, wine and citron, a drink made from a tree in the lemon family.
Along with the sanctuary of Asclepius, the God of Medicine, the island of Paros houses the ruins of classical temples to Apollo and Artemis, ancient marble quarries and the historic 4th century Panagia Ekatontapyliani or Church of a Hundred Doors, the oldest Byzantine church in Greece.
Most recently, Paros has also gained a reputation for its famous wine, beautiful beaches and fresh fish. For years, local residents made their living from the sea. We will learn about this history from lectures, discussions and field trips. Our hosts, Gregoris Altamirano and Patricia Donnelly have lived on the island for numerous years. Gregoris worked as a local chef and has arranged for outings to see the distinctive flora and fauna that goes into the seasoning of Paros' regional cuisine. Other field trips during our stay on this island include visits to olive groves, vineyards, beekeeping facilities and a Cycladic art museum. We end our time on Paros with a celebratory cooking demonstration at a villa overlooking the Aegean sea where students can participate in creating a Greek meal.
Paros, Greece
Saturday May 28th
Breakfast and Discussion
Guided tour of Naoussa with noted architect on island, Petros Metaxa
Trip to Damouli to visit beekeeper, observation of hive and process
Swim and free time
Sunday May 29th
Lecture/Discussion
Tour of Moraitis Winery with wine tasting
Visit to pottery workshop in Lefkes
Lunch at seaside restaurant
Monday May 30th
Breakfast and lecture
Trip to Archaeological Museum in town of Parikia
Guided tour with Lena Lampropoulous of renown Byzantine Church and Museum
Naoussa, Paros
Tuesday May 31st
Breakfast and Discussion
Trip to marble mines that informed ancient statuary and discussion abut history and techniques
Trip to Agio Vannis Monastery and description of pirate invasion and implications for the island
Lunch at Seaside restaurant
Wednesday June 1st
Breakfast and discussion
Shopping at local markets for cooking demo at Damouli
Time at private villa and food cooking demo with participation of students
Thursday June 2nd
Breakfast and discussion of Minoan Art before
Depart for Santorini by ferry (three hour trip)
Check in Hotel in Santorini
Dinner/Free time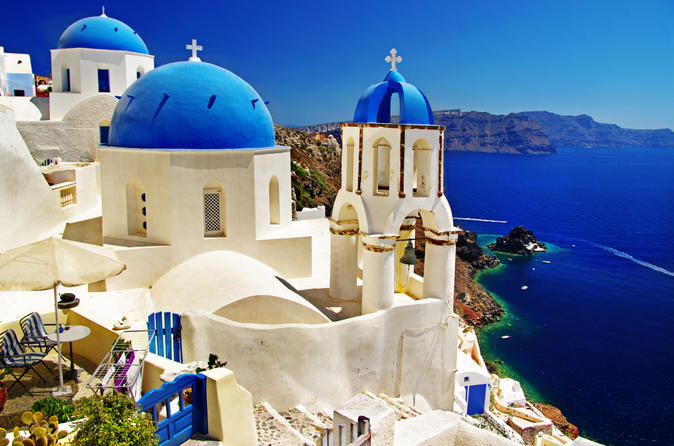 Santorini, Greece
After six stimulating yet relaxing days on the island Paros and Naxos, we travel by ferry to the famed island of Santorini in the Southern Aegean. Considered by the ancient lawgiver Solon (640-560 BC) and the philosopher Plato (427-327 BC) to be the site of the Lost Atlantis, Santorini is located midway between mainland Greece to the west, Turkey to the east, and the island of Crete to the south. Known in antiquity as Thera or Thira, a volcanic eruption on this island some 3600 years ago (circa 1600 BC) caused tidal waves that led to the demise of ancient Minoan culture. Wall paintings from the thousand year old village of Acrotiri illustrate the flavor of life in Minoan times.
Local museums of Cycladic Art house artifacts from mainland Greece (Mycenae) Crete, Cyprus, Antolia, the Levant and Mesopotamia that testify to a vast trade network in antiquity that stretched from Santorini to western Europe, the Middle East and North Africa.
Bronze Age Wall Painting found at Acrotiri
Along with exploring food and trade practices from the Bronze Age during our time on this historic island, we also focus on contemporary food production practices. We taste traditional goat cheese, highly prized wine of the region as well as the distinctive tomatoes, capers, fava and eggplant seasoned with local herbs and spices and grown in Santorini volcanic soils.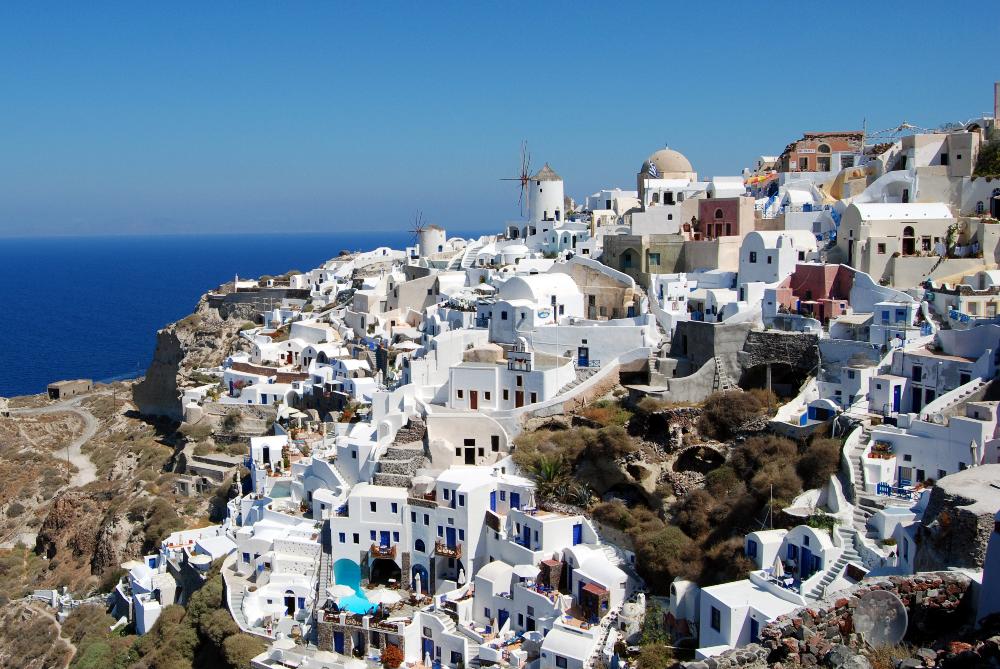 Santorini

Friday June 3rd
Tour of ancient Acrotiri site
Visit to local winery
Lunch at seaside village
Trip to Oia for sunset

Saturday June 4th
Breakfast and Discussion
Visit to Museum of Ancient Thira
Free time or tour of Caldera

Sunday June 5th
Depart Santorini for Athens
Check into apartments in Athens

Monday June 6th
Free day --Prepare for presentation at Athens Centre

Tuesday June 7th
Presentation at Athens Centre
Afternoon free
Dinner near Acropolis

Wednesday June 8th
Depart for US
Student Testimonials
"I am currently a Junior at SUNY Brockport, pursuing a Bachelors degree in Political Science and a minor in International Studies. I decided to study in Greece because I wanted to learn about Greek food and culture in a non-traditional way. My reward for the investment of my time and money is memories that will last a lifetime, and knowledge of the region which can only be achieved through a hands-on learning process. Before studying abroad, I couldn't be 100% sure that I chose the right majors/minors. Within 5 minutes of landing in Athens, I KNEW I had made the right choice. International Studies is absolutely my niche and I have my study abroad experience to thank for that realization. After graduation, I plan to pursue a Masters degree in International Studies with certification in Middle Eastern Studies. I can not wait to have another wonderful learning experience outside of the U.S."
- Tiffany Staats, Past Participant
Dates
Summer 2018: May 21 - June 3, 2018