About King's College London
King's College London was established by Royal Charter in 1829 by patrons wishing to challenge both the supremacy of Oxford and Cambridge and the explicit secularism of the new University College London founded just three years prior. Today it is the second largest college of the 50 federated institutions that comprise the University of London. From its inception, academic innovation and excellence were at the heart of King's, and its modern record is a testament to its success in attaining that foundational goal. King's three main campuses are ideally situated within a single square mile of Central London. From this central locale, students are within walking distance to Covent Garden, with its brimming market streets lined with street performers, and the theatre district surrounding Trafalgar Square. King's combination of intellectual distinction and optimal location offer study abroad students the opportunity to expand their boundaries both academically and socially. Most recently, King's College London was named 'University of the Year 2010/2011' by The Sunday Times.
Visit their website at: http://www.kcl.ac.uk

The King's College London Program offers you the opportunity to:
Live and study in one of the world's most rewarding and cosmopolitan environments,
Receive instruction in small classes, seminars, and tutorials from members of the faculty of King's College London,
Improve your writing and research skills,
Have total integration with students from King's College London as well as international students.
Your experience on the King's College London Program will:
Integrate you into British society and the British educational system,
Make you a better student,
Expand your outlook on the world,
Build your self-esteem and self-confidence,
Greatly enhance your career prospects.
At King's College London you will:
Live with British students in one of the university's halls of residence,
Receive a comprehensive on-site orientation to study at King's College that will maximize the benefits of your semester/year of study,
Enjoy the security of a complete package of academic and non-academic support services provided by the International Office at King's College
NOTE: US Citizens do need a visa in order to study in the UK. After being accepted to the program, Brockport will help guide you through the application process. For information about the process, visit the UK Visa page.
The City of London
London is, in addition to being the center of British politics, business, art, music, and culture, a great city for students. There is always lots to do and see, and many opportunities for research, study, entertainment, and fun.
For a preview of the excitement of today's London, visit one of these sites on the web:
Visit London
London Town
TimeOut London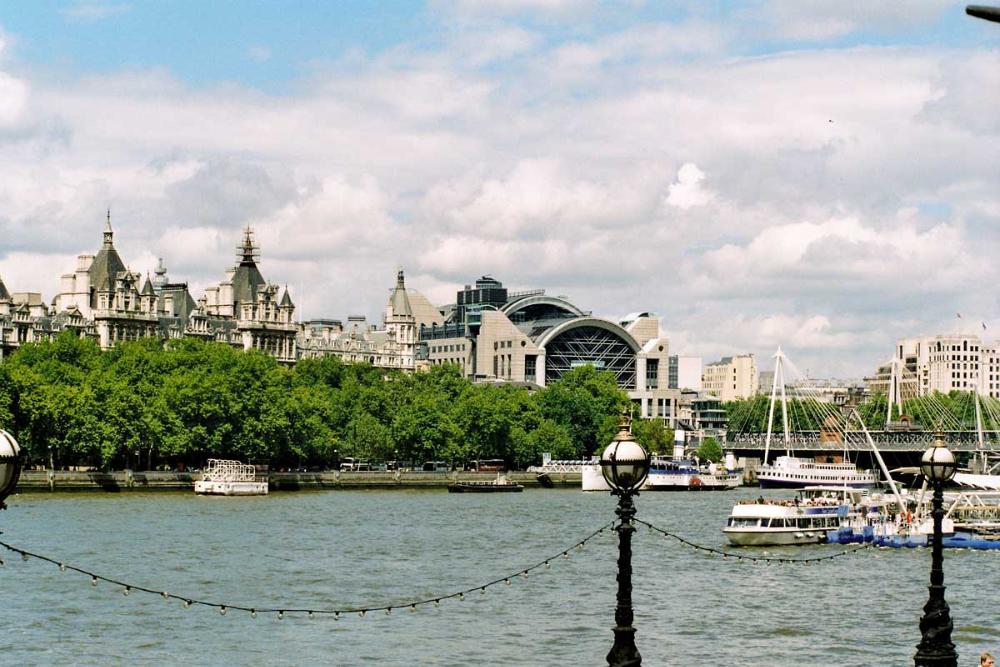 Housing:
Full year students are guaranteed King's College accommodation as long as they apply by the housing deadline and have been offered and have firmly accepted their offer of a place to study at King's College by that date. Students intending to study at King's College for less than the full year are not guaranteed King's College accommodation, but every effort will be made to help secure such accommodation. King's halls of residence are located in prime central sites and all within a five mile radius of central London and are closely located to buses and the Tube for transport to classes and around the city. Traditional residences are comprised of single bedrooms with shared bathrooms, laundry and self-catering kitchen facilities. In all situations, housing is scheduled only for the duration of the program and those students wishing to travel before or after need to make supplementary arrangements.
Orientation:
An orientation program is a compulsory part of each semester's program. Students are expected to arrive in London in time to begin their studies with this program, which is held in the week prior to the start of each semester.
Cost
Fees for the Brockport King's College London Program

Budget Sheet for the Undergrad Program (Fall 2019): $15,015.26 (Estimated)
Budget Sheet for the Undergrad Program (Spring 2020):
Tier 1: $17,415.02 (Estimated)
Tier 2: $21,015.02 (Estimated)

*Please contact the Office of International Education if you wish to take Tier 2 courses*
INCLUDES:
DOES NOT INCLUDE:
Housing
Passport
Airfare to and from London (or from London to/from Europe)
Textbooks and Supplies
Meals while in England
Personal Expenses
Local Travel
​
As a very rough guide, a participant in the Brockport King's College London Program will need around £500 to £600 per month to pay for daily local travel, textbooks and other school supplies, entertainment, meals and other necessities.
This estimate does not include the purchase of clothing; travel in Britain or Europe outside of the excursions/field trips organized by the program.

The actual amount that you will spend depends heavily on your style of living, and will vary with each individual's personal spending habits, entertainment preferences and travel choices.
Note: We strongly recommend that you purchase trip insurance to cover loss of luggage, cancelled/missed flights, missed/cancelled program, etc. In the event that you cannot attend a program (for example, with a medical emergency or U.S. State Department Travel Warning), such insurance can cover loss of program fees resulting from a cancelled program.


Financial aid applies towards fees. Please be sure to check with the Financial Aid Office at your home school. If applying or receiving financial aid, you will need to give the Financial Aid Office (at your home school) a copy of your acceptance letter and budget sheet.
*Enrollment in most Science and Engineering programs at King's College are at an additional extra charge.

** The SUNY International Health Insurance is mandatory and will be included on the student's Brockport invoice.
*** Varies depending on the SUNY campus at which the participant pays tuition.



The cost (and items included in the cost) as listed on the website are subject to change and should be considered estimates. Final budget sheets will be mailed to the student prior to departure and usually upon acceptance.



Courses
Courses:
For more information on the specific courses available, please visit:
https://www.kcl.ac.uk/study/abroad/at-kings/modules.aspx
Credits:
King's College calculates credits so that a total of 32 credits is the norm for a given academic year. Depending on course selection, full year students will earn between 28 and 34 credits, while fall semester students will typically receive 14 to 16 credits and spring semester participants accumulate between 14 and 20.
Curriculum:
On academic and social grounds, King's College London encourages study abroad students to study for an entire academic year. However, many departments allow for students to enroll in the fall or spring semester only.
Successful applicants to Brockport's King's College London program become candidates for admission to three or four departments where they will pursue their course of study. Prior to departure, participants will select ten courses. in order of preference. It is not possible to specify how many courses a student will take in one semester because credit values vary however, the majority of one semester UG modules count for 15 credits each.
All instruction is by King's College London faculty and participants will be examined in the same manner, and to the same standard, as their British classmates. The majority of courses in which they enroll will be examined formally at the end of the semester. These examinations often carry the weight of 60 to 80 percent of the final grade, and in order to be awarded credit, participants must take--and--pass these examinations.

View a list of the possible academic subjects offered by King's College London as well as all of Brockport's university programs in England, here: Academic Subjects- Programs in England.pdf
King's College London Video Links
(Welcome to King's College London)
http://www.youtube.com/watch?v=Il3DgZIsXfI&feature=youtu.be
(King's College London Student Experience)
http://www.youtube.com/watch?v=VoSMFK1lPSI&feature=youtu.be
Program Dates
Fall 2020(est): September 19th, 2020 - December 18th, 2020
Spring 2020 (est): January 4, 2020 - June 20, 2020
Important note: Please do not book your travel arrangements until you have received the official Travel Memo from your program advisor.