About the University of Strathclyde
The University of Strathclyde was founded in 1796 and is located in the heart of Glasgow, Scotland. Strathclyde is dedicated to providing a first-class working and learning environment for its students and staff. The university continues to invest in its services and facilities, and has worked on several developments in recent years. For example, a new learning and teaching hub is set to be completed by the end of 2020! The building will accommodate innovative and flexible learning in a broad range of disciplines. Its modern facilities will include group working rooms, support for different education methods, and access to new technologies. The University of Strathclyde is also known for its Technology and Innovation Center. The center offers students and partnering industries access to new opportunities for research and development.

Located in the city's center, Strathclyde's urban campus is surrounded by a multitude of supermarkets, restaurants, shops, clubs, theaters, and museums. There are also a variety of historic and cultural sites in the region. Students will have access to public transportation such as buses, trains, and the subway to navigate the city. There are also bike rental systems located throughout the city. Several notable places to visit include the Glasgow Cathedral, Glasgow Green, and the Mural Trail.

For more information:
Visit the city's website: https://www.glasgow.gov.uk/
Visit the university's website: http://www.strath.ac.uk
The Brockport Program at Strathclyde offers you the opportunity to:
Live and study in Glasgow at a prestigious university,
Receive instruction in small classes, seminars, and tutorials from members of the Strathclyde faculty,
Choose the coursework you want from an almost limitless variety of disciplines,
Improve your writing and research skills.
Your experience at Strathclyde will:
Integrate you into Scottish society and the Scottish educational system,
Make you a better student,
Expand your outlook on the world,
Build your self-esteem and self-confidence,
Greatly enhance your career prospects.
At Strathclyde, you will:
Live with Scottish students in one of the university's halls of residence,
Receive a comprehensive on-site orientation to study at Strathclyde that will maximize the benefits of your semester/year of study,
Enjoy the security of a complete package of academic and non-academic support services provided by the International Office at the University of Strathclyde.
Program participants will stay in one of Strathclyde's eight residence halls. The majority of accommodations are located on the eastern side of the John Anderson Campus and are developed as a Campus Village. Others are located slightly off campus in Merchant City. All rooms are single occupancy, while some also include a sink or en-suite bathroom. Most halls are arranged in flats with 4-6 rooms each. All bedrooms are supplied with a bed, desk, and chair, and a new pillow and mattress cover are provided. Shared kitchens include a microwave, stove, fridge/freezer, sink, and toaster. Students will also share a common/study space with their flatmates. A weekly cleaning service is provided and students have access to laundry facilities. There is also a TV in each flat and students have access to Wi-Fi in all residence halls. Students will pay accommodation costs directly to Strathclyde, and will submit preferences with their admissions application.

View Strathclyde's website for more information on their residence halls and accommodation costs
Cost
Budget Sheet for Undergrad Program (Spring 2020): $11,655.10 (Estimated)

INCLUDES:
Program Acceptance Fee
Tuition
Various campus-specific fees**
SUNY International Health Insurance*
Pre-departure orientation materials
Airport pick-up
On-site orientation at the University of Strathclyde
Strathclyde's Study Abroad Office Services
Brockport's Study Abroad Office Services
DOES NOT INCLUDE:
Passport
Airfare to/from Scotland
Meals
Housing
Textbooks and Supplies
Personal Expenses

Financial aid applies towards fees.
The actual amount you spend depends heavily on your style of living, and varies by personal spending habits, entertainment preferences and travel choices.

*SUNY International Health Insurance is mandatory and will be included in the student's Brockport invoice.
**Varies depending on the SUNY campus at which the participant pays tuition.
Courses
Courses at the University of Strathclyde range from Levels 1 to 4. Level 1 courses are usually introductory, Levels 2 and 3 require some previous study, and Level 4 requires significant experience in the subject area. Study abroad students usually only take courses from Levels 1 to 3. Admission to Level 4 courses requires permission from the major department. Study abroad students are able to take courses from Stratchlyde's full range of faculties and departments. However, students are expected to take at least 50% of courses in their major subject area. Additionally, study abroad students usually register for a total of 60 Strathclyde credits per semester. Students in the Faculty of Humanities and Social Sciences and Strathclyde Business School will typically take 3 courses worth 20 credits each. Students in the Science and Engineering faculties however, will usually take 4-6 courses worth 10 and 20 credits. This will normally translate to 3 or 4 US credits per course. Students will also receive provisional approval for the courses they list in their application prior to arrival. However, students should have alternative courses in mind as adjustments may be made upon arrival.
To explore available courses, visit Stratchlyde's catalog at the following link:
http://but.mis.strath.ac.uk/classcatalogue/
Strathclyde Business School
Accounting and Finance
Economics
Entrepreneurship
Hospitality and Tourism Management
Human Resource Management
International Business
Marketing
Humanities and Social Sciences
Education
English
Gender Studies
History
International Relations
Journalism, Media, and Communication
Law
Modern Languages
Political Science
Psychology
Social Work and Social Policy
Speech and Language Therapy
Sports Studies
Sciences
Biomedical Sciences
Chemistry
Computer and Information Sciences
Mathematics and Statistics
Physics
​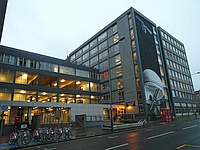 Engineering
Architecture
Biomedical Engineering
Chemical Engineering
Civil and Environmental Engineering
Electrical Engineering
Engineering Management
Mechanical and Aerospace Engineering
Marine Engineering
A Special Note About Fall Study:
Many universities in the United Kingdom conclude fall courses after Christmas break with a final examination period in January. Early examinations are offered at the discretion of individual academic departments and must be requested on a case by case basis. If applying for fall study, please note on your application that you will require early assessment in order to return home before Christmas. The Center for Global Education and Engagement will then be happy to work with our partners at Strathclyde to determine your options.
Dates
Fall 2020 (est):
September 13th - December 19th, 2020
Spring 2021 (est):
January 10th - May 22nd, 2021
IMPORTANT NOTE: Please do not book any travel arrangements until you receive the official Travel Memo from your program advisor.