About the King's College London Summer Program
King's College London was established by Royal Charter in 1829 by patrons wishing to challenge both the supremacy of Oxford and Cambridge and the explicit secularism of the new University College London founded just three years prior. Today it is the second largest college of the 50 federated institutions that comprise the University of London. King's College is one of England's oldest and most prestigious university institutions: a multi-faculty research-led university college based in the heart of London with over 19,700 students, of whom more than 6,200 are postgraduates. King's three main campuses are ideally situated within a single square mile of Central London. From this central locale, students are within walking distance to Covent Garden, with its brimming market streets lined with street performers, and the theater district surrounding Trafalgar Square. King's combination of intellectual distinction and optimal location offer study abroad students the opportunity to expand their boundaries both academically and socially. Most recently, King's College London was named 'University of the Year 2010/2011' by The Sunday Times.
Visit their website at: http://www.kcl.ac.uk
Key Features
A new perspective: King's College London Summer School takes full advantage of the rich cultural, political and economic environment of London to provide new perspectives on the disciplines offered
London as a classroom: courses offered build upon King's central location and connections with business and cultural industries. Visits to London's finest cultural institutions, galleries and museums are integrated into your study where possible.
A great international experience: meet, socialize and make friends with students from all over the world
Academically rewarding: a high quality and intensive learning experience, with guest lectures from leading instructors
Convenient study hours: where possible classes take place from Monday-Thursday with Fridays and weekends free for private study or exploring London!
Central London location: all courses are taught at KCL's Strand Campus in the heart of cultural London. Accommodation is situated within a short walking distance of classes and within easy reach of all the great social and entertainment opportunities that London has to offer.
The City of London
London is, in addition to being the center of British politics, business, art, music, and culture, a great city for students. There is always lots to do and see, and many opportunities for research, study, entertainment, and fun.
For a preview of the excitement of today's London, visit one of these sites on the web:
Visit London
London Town
TimeOut London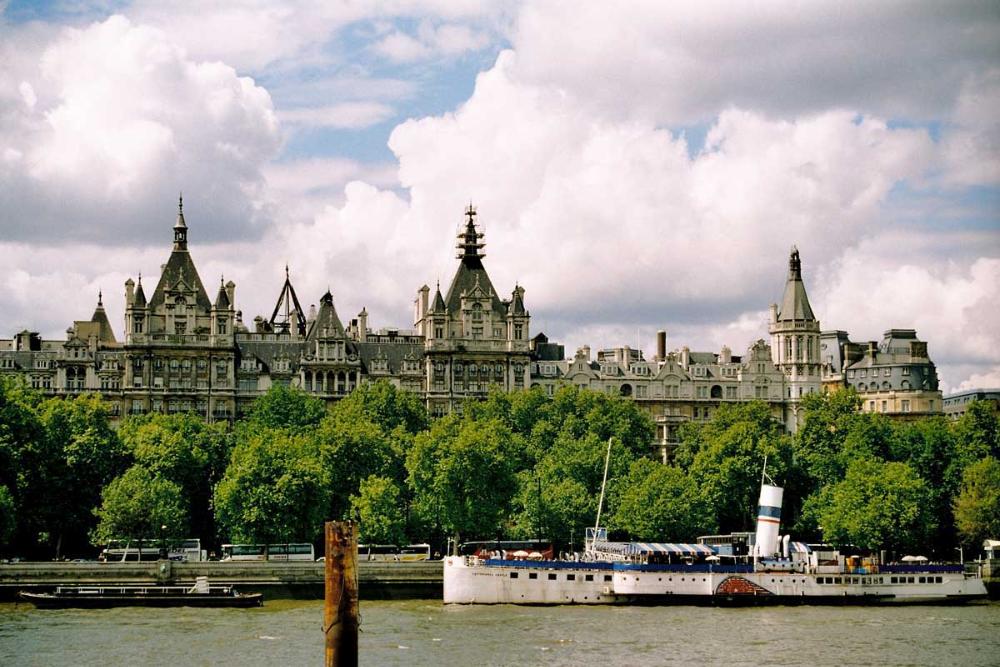 Housing & Orientation
Housing:
Students will be housed in Stamford Street Apartments. Each room has en-suite shower and bathroom facilities, individual fridges and wired internet connection. They are arranged around a courtyard and as apartments, each accommodating between 4 and 9 students. A number of rooms are equipped for students with physical disabilities. The apartments are self-catered (meals are not provided) with a shared kitchen and a communal television. There are on-site laundry facilities, a gym and 24 hour security.

Stamford Street is located on the Waterloo Campus of King's just across the river from the Strand Campus where Summer School classes take place – an easy stroll across Waterloo Bridge, with its marvelous views of Westminster in one direction and the city in the other.
Accommodation is not only within a short walking distance of classes but is conveniently located close to the cultural and social opportunities available along the River Thames. These opportunities include many of London's greatest tourist attractions including the London Eye; Tate Modern Art Gallery; Shakespeare's Globe; Borough Market and the Southbank Center- the largest single-run arts center in the world.
Cost
Fees for Brockport's England: King's College Summer 2019 Program
Undergraduate Summer Program Costs:
$4,512.84
(Estimated - 4 Credits)
$8,575.68
(Estimated - 8 Credits)

Includes:
Tuition (at Brockport and King's College)
SUNY International Health Insurance*
Various campus-specific fees (college fee, technology fee, etc.)**
Program Acceptance Fee
Pre-departure orientation materials
On-site orientation program in London
Airport Pick-up Service
Accommodation (self-catered with shared bathrooms and shared kitchens)
Some field trips
Kings College Study Abroad Office Services, and
Brockport's Study Abroad Office Services

Not Included:
Transportation to/from London
Passport
Meals
Textbooks
Personal expenses (such as laundry, postage, shopping, etc.)
Local travel while in London (except for excursions that are included in the cost)

The actual amount that you will spend depends heavily on your style of living, and will vary with each individual's personal spending habits, entertainment preferences and travel choices.
Financial aid applies towards fees.

Note: We strongly recommend that you purchase trip insurance to cover loss of luggage, cancelled/missed flights, missed/cancelled program, etc. In the event that you cannot attend a program (for example, with a medical emergency or U.S. State Department Travel Warning), such insurance can cover loss of program fees resulting from a cancelled program.

*The SUNY International Health Insurance is mandatory and will be included on the student's Brockport invoice.
**Varies depending on the SUNY campus at which the participant pays tuition.

Courses
Courses:
Courses will run in two blocks of three weeks each and participants will be able to take a module in either or both sessions. All courses are at the undergraduate level. The Summer School teaches 30 different modules, spanning subject areas such as:
health and science
math and engineering
law and governance
business management
culture and ancient languages
For more information on courses available visit:
King's Summer School


View a list of the possible academic subjects offered by King's College London Summer Program as well as all of Brockport's university programs in England, here: Academic Subjects- Programs in England.pdf
Featured Extras
For a preview of the excitement that awaits you, check out these great videos:
King's College London Video

King's College London Accommodation

King's College London Student Experience

Dates
Summer 2020 (est):

Session 1: June 29th - July 17th, 2020
Session 2: July 20th - August 7th, 2020

Important note: Please do not book your travel arrangements until you have received the official Travel Memo from your program advisor.