About the University of Melbourne Program
The University of Melbourne campus is set on 22.5 beautiful landscaped hectares with buildings ranging from classic architectural styles to modern designs. The campus itself is located only 1.7 miles from the city center, and is in close proximity to the Victorian Arts Center, the State Library and the National Gallery.
Melbourne is the second largest metropolis in Australia and the capital of Victoria. Cosmopolitan and confident Melbourne is relaxed and friendly, offering a quality of life that would be difficult to find elsewhere in the world.
Visit the website at: http://www.unimelb.edu.au and their study abroad resource guide: http://www.mobility.unimelb.edu.au/inbound/index.html
City of Melbourne: https://www.melbourne.vic.gov.au/Pages/home.aspx

View images of the University of Melbourne and the City: University of Melbourne & City Photographs.pptx

The Brockport Program at the University of Melbourne offers you the opportunity to:
Live and study in one of the world's most rewarding and cosmopolitan educational environments,
Receive instruction in small classes, seminars and tutorials from members of the faculty at the University of Melbourne,
Choose (and be guaranteed - before you leave the US) the coursework you want/need from an almost limitless variety of disciplines,
Select an internship option within the Faculty of Arts (if you would like to combine this opportunity for credit along with your coursework),
Total integration with Australian students and others from around the world,
Improve your writing and research skills tremendously.
Your experience at the University of Melbourne will:
Introduce you to Australian society and the Australian educational system,
Make you a better student,
Expand your outlook on the world,
Build your self esteem and self confidence,
Enhance your career prospects.
At the University of Melbourne you will:
Live with Australian students in modern, superior [single bedroom/adjoining suite] University of Melbourne-owned accommodation,
Receive a comprehensive on-site orientation to study at the University of Melbourne that will maximize the benefits of your semester/year of study,
Have the benefit of an on-going program of field trips, excursions, and social events through the University of Melbourne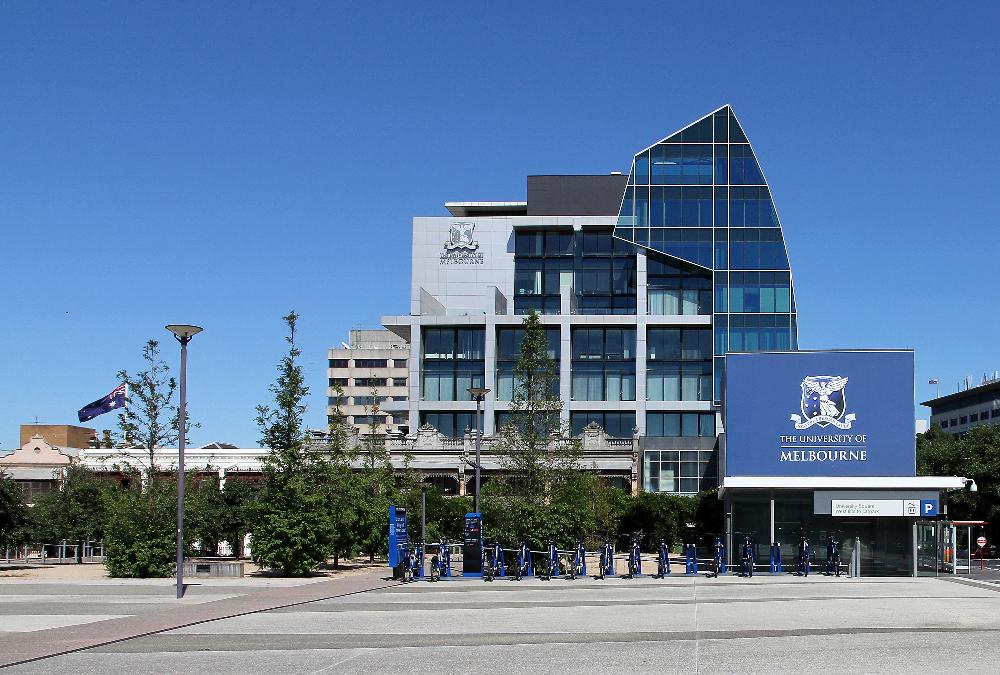 City of Melbourne

Melbourne is renowned for its many festivals both large and small, with major ones being the Melbourne International Arts Festival, the Fringe Festival, the Comedy Festival, the Melbourne International Film Festival and the International Chamber Music Festival. The city has a unique blend of traditional and contemporary architecture, a range of galleries, entertainment venues, markets, retail stores and cafes.
For action lovers, Melbourne is the sports capital of Australia. So whether you are a sports spectator of football, tennis, surfing, skiing, hiking, cycling, kite surfing, rugby, Melbourne is definitely the place to be. Melbourne is charming, cosmopolitan, clean and safe, and has been described by an international panel as the "World's Most Livable City." It's a vibrant and multicultural city, and despite its 3.5 million inhabitants, has a relaxed pace and welcoming feel.
Visit the City Website:
http://www.visitmelbourne.com.au

Housing & Orientation
Housing:
There are two main options for study abroad participants spending a year or a semester at the University of Melbourne. The most popular option is in apartment-style accommodation at RMIT Village. The other option is with one of the twelve Residential Colleges.The University of Melbourne offers guaranteed housing placements to all study abroad students and arranges free airport pickup on arrival in Melbourne. Information on airport reception and accommodation, including on-line applications, is on the Student Advisory Service's home page at: https://study.unimelb.edu.au/your-experience/accommodation
Orientation:
An orientation program specifically for study abroad and exchange students is conducted by the University of Melbourne during the week prior to the commencement of classes in both semesters. Issues covered include settling in to life in Melbourne, culture shock, accommodation, health insurance, clubs and societies, email access, study skills, weekend trips, and social events.
Cost
Fees for Brockport's University of Melbourne, Australia Semester Program
Budget Sheet for the Undergrad Program (Fall 2019):
$14,565.10 (Estimated)
Budget Sheet for the Undergrad Program (Spring 2020):
$14,565.10 (Estimated)

INCLUDES:
TUITION (at Brockport and at University of Melbourne)
Program acceptance fee
Australian Health Insurance
Pre-departure Orientation Materials
On-site Melbourne Welcome Orientation
Brockport's Study Abroad Office Services.
Various campus-specific fees*(college fee, technology fee, etc.).
SUNY International Health Insurance**

DOES NOT INCLUDE:
Housing
Passport
Australian Visa
Airfare to and from Australia
Textbooks and supplies
Travel while in Australia
Meals (if in self-catered housing)
Personal Expenses
This estimate does not include the purchase of clothing; travel in Australia outside of the excursions/field trips organized by the program. The actual amount that you will spend depends heavily on your style of living, and will vary with each individual's personal spending habits, entertainment preferences and travel choices.

Note: We strongly recommend that you purchase trip insurance to cover loss of luggage, cancelled/missed flights, missed/cancelled program, etc. In the event that you cannot attend a program (for example, with a medical emergency or U.S. State Department Travel Warning), such insurance can cover loss of program fees resulting from a cancelled program.

Financial aid applies towards fees. Please be sure to check with the Financial Aid Office at your home school. If applying or receiving financial aid, you will need to give the Financial Aid Office (at your home school) a copy of your acceptance letter and budget sheet.

--------------------------------------------------------------------------------
*Varies depending on the SUNY campus at which the participant pays tuition.
**The SUNY International Health Insurance is mandatory and will be included on the student's Brockport invoice.
The cost (and items included in the cost) as listed on the website are subject to change and should be considered estimates. Final budget sheets will be mailed to the student prior to departure and usually upon acceptance.
Courses
For more information on the specific courses available, please visit: https://handbook.unimelb.edu.au/faces/htdocs/user/search/SimpleSearch.jsp
A guide to the range of internships offered by the Faculty of Arts is located at: https://arts.unimelb.edu.au/students/wil​

***The Dance program has different requirements due to the competitive nature of the program. Please contact our office if you are interested in applying. Students should begin the application/audition process up to 8 months before the listed application deadline. The instructions for the audition are listed here.
Tier 1 Courses:

Education
Nursing
Arts
Foreign Languages
Humanities
Social Studies
Visual and Performing Arts
Victorian College of the Arts (except Audio Visual Studies)
Tier 2 Courses:
Behavioural Science
Mathematics
Statistics
Computing
Accounting
Administration
Commerce
Economics
Credits:
Participants in the Brockport University of Melbourne Program will normally earn five U.S. credit hours for each course successfully completed at the University of Melbourne, for a maximum of fifteen credits per semester. Students normally take 4 courses, adding up to 50 points per semester at the University of Melbourne.
Curriculum:
Prior to departure, participants in the Brockport University of Melbourne Program will select four courses from the courses available to study abroad students at the University of Melbourne. The Study Abroad office is the first point of contact for a well-developed support network. Together with faculty advisers they also assist students with course selection and assessment of prerequisites. To maintain a full time student visa, study abroad students must complete 50 points per semester. Subjects can be taken across most faculties: Architecture, Arts, Economics and Commerce, Education, Engineering, Land and Food Resources, Law, Music, and Science. All instruction in the Brockport/University of Melbourne Program is by University of Melbourne faculty.
Participants in the Brockport/University of Melbourne Program are examined in the same manner (and to the same standard) as their Australian counterparts and classmates. The majority of courses in which they will enroll are examined formally at the end of the semester and in order to be awarded credit, participants must take and pass the examination at the end of the study period in question.
The Victorian College of the Arts (VCA) is Australia's leading visual and performing arts training institution. Beginning in the Spring 2007 semester, it will become a faculty of the University while maintaining its distinctive identity for training in the visual and performing arts. It consist of six schools. Art, Dance, Drama, Music, Film & Television, Production, and two centres, The Centre for Ideas and The Wilin Centre for Indigenous Arts and Cultural Development. The VCA campus is situated in the centre of Melbourne's arts precinct, about a 20-minute tram ride from the University's Parkville campus.

View a list of the possible academic subjects offered by the University of Melbourne as well as all of Brockport's university programs in Australia, here: Academic Subjects- Programs in Australia and New Zealand.pdf
Student Testimonials
"I chose to study abroad in Australia because I wanted to travel somewhere that most people normally wouldn't get the opportunity to go to. I wanted to experience all the amazing places and landscapes Australia has to offer! I learned to see the world in a different perspective. Being immersed in another culture gave me a new view on my own life and I was able to create a lot of new values. I also found that most people are genuinely very friendly and welcome, and you can make friends in the most unexpected places!"
-Beth Ann

"From studying abroad I learned that I need to take risks in life to be really happy and to experience everything around me. I snorkeled, went scuba diving, went whale watching over the Great Barrier Reef and climbed the highest peak in the islands. I brought back the confidence that I can handle anything that life throws at me. Traveling to Australia and living there for five months on my own was scary to think about but it turned out to be the most amazing experience of my life. I also brought back a global perspective with me. Studying abroad is such an eye-opening experience for many reasons. I found it interesting to talk to people about their cultures and their governments and see what they thought about ours as well."
-Mallory Platner
Program Dates and Deadlines
Dates:
Spring 2021 (est): February 21st - June 26th, 2021
Fall 2020 (est): July 24th - November 21st, 2020

Program Deadlines:
Fall Semester: April 1st (est.)
Spring Semester: October 15th (est.)

***The Dance program has different requirements due to the competitive nature of the program. Please contact our office if you are interested in applying. Students should begin the application/audition process up to 8 months before the listed application deadline.

Important note: Please do not book your travel arrangements until you have received the official Travel Memo from your program advisor.