About the University of Canterbury
The University of Canterbury has modern and well-equipped facilities spread across a spacious suburban campus. The university has easy access to the center of the city and the cultural and recreational facilities it provides. Canterbury is a medium-sized university (about 13,000 students), which makes it easy for students to get to know each other. The university has an international reputation for academic excellence in teaching and research.

UC joins an elite group of international business schools with Triple Crown accreditation, placing it in the top 1% of business schools in the world. Triple Crown accreditation follows rigorous quality assessment processes by three accreditation systems: the Association to Advance Collegiate Schools of Business (AACSB International) based in the United States, the Association of MBAs (AMBA) based in the United Kingdom, which accredits the flagship MBA programme, and now EQUIS based in Europe.

Visit their web site at: http://www.canterbury.ac.nz
**** SCHOLARSHIPS AVAILABLE!!!***

Brockport is offering TWO NZ$1,000 scholarships to give to students. One scholarship available per student. It's easy to qualify! All you need to do is apply and get accepted to study abroad at UC for the semester and have a 3.0 GPA or higher. Apply today and don't miss out on this scholarship opportunity!

-Go Overseas external scholarship: one lucky winner will receive $15,000 to cover tuition and roundtrip flight for a semester NZ program. To learn more and apply, visit here. ​
City of Christchurch
The University is located in Christchurch, the largest city in New Zealand's South Island. With the shallow Avon River winding through its center, Christchurch has been called the most "English" of New Zealand's cities. Named after the college and cathedral at Christ Church, Oxford, (population 370,000), it is on the east coast of New Zealand's South Island, at the edge of Canterbury Plains, close by the Lyttleton Harbor, and within an hour and a half of the Southern Alps and the tourist centers of Mt. Cook and Queenstown.
Beautiful sandy beaches are close to the city, and the city's close proximity to the Southern Alps means that skiing and snowboarding can be found at any of the five ski-fields within 90 minutes of Christchurch. Rafting, kayaking, and bungee jumping are a short drive away. There are also plentiful opportunities for outdoor activities such as mountain biking and hiking.
Check out a video on New Zealand (taken from YouTube): https://www.youtube.com/watch?v=pAkKntcsULg
Visit their city websites:

https://ccc.govt.nz/​
http://www.christchurch.org.nz/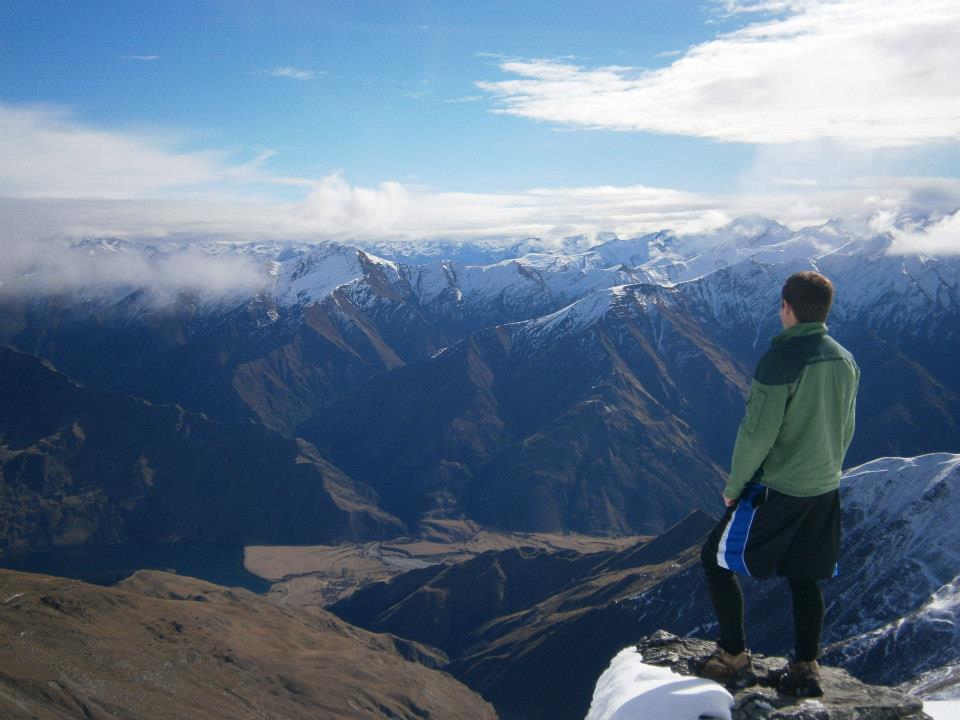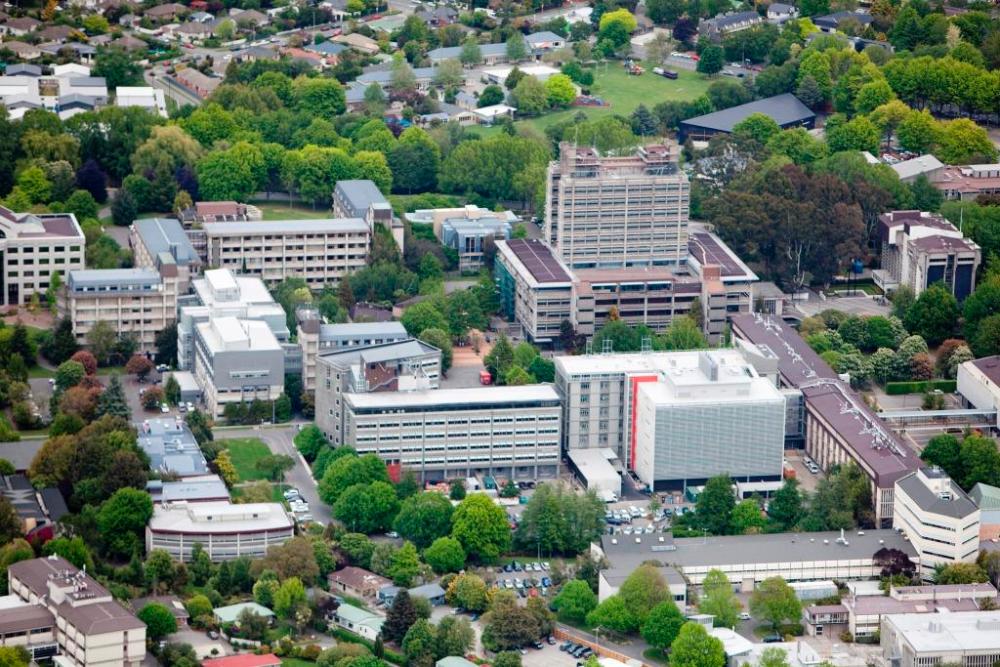 Brockport Program at the University of Canterbury offers you the opportunity to:
Live and study in one of the world's most rewarding and beautiful educational environments,
Receive instruction in small classes, seminars and tutorials from members of the faculty at the University of Canterbury,
Choose (and be guaranteed - before you leave the US) the coursework you want/need from an unlimited selection of courses,

Have total integration with students from New Zealand as well as international students,

Improve your writing and research skills.

Your experience at the University of Canterbury will:

Introduce you to typical New Zealand society and their educational system,

Make you a better student,

Expand your outlook on the world,

Build your self esteem and self confidence,

Enhance your career prospects.
At the University of Canterbury you will:

Live with New Zealand students in modern, single bedroom, halls of residence (including full board), or in University-owned accommodations, self-catered, single rooms with communal lounges and kitchens, mainly for international students (housing is guaranteed ),

Receive a comprehensive on-site orientation to study at the University of Canterbury that will maximize the benefits of your semester/year of study,

Work with the international student office staff to ensure housing, course, and excursion needs are met during their orientation program.
Housing & Orientation
Housing:

There are four halls of residence: Bishop Julius, Rochester and Rutherford, University Hall and College House, each providing students with full board and all within a short walking distance of the campus. The Halls of Residence offer single accommodation for men and women, which includes meals, electricity, and local telephone calls. The halls remain closed between semesters and during summer break.
In addition, Illam Village consists of self-catered single rooms with communal lounges and kitchens, mainly for international students. Each student has their own bedroom but shares the apartment with five other tenants. Bedrooms have desks, phones, computer jacks, bookcases, wardrobes and all bedding supplied. A total of 330 beds are available. The University guarantees to provide accommodation for international students. This may be in either University accommodation or through assistance in obtaining private accommodation or homestay. If you wish to stay in University accommodation, you must apply for a place promptly once you are accepted on the SUNY Brockport Program at the University of Canterbury.
Orientation:

An on campus orientation program is held prior to the beginning of each semester. The program is usually a week prior to the start of classes and is designed to help new students adjust to their new surroundings. It is strongly recommended that all study abroad students attend this program. Students also take part in activities such as the guided tours of Christchurch where they will find out where they can shop for groceries and do their banking, etc. Students will also receive assistance with enrolling in units/subjects and meet the various Heads of Department.
Cost
INCLUDES:
Tuition

Program acceptance fee

New Zealand Health Insurance

Pre-departure orientation materials

On-site orientation program in Christchurch

Brockport's Study Abroad Office Services
Various campus-specific fees* (college fee, technology fee, etc.)
SUNY International Health Insurance**
DOES NOT INCLUDE:
New Zealand Student Visa
Housing
Meals
Passport
Airfare to and from New Zealand
Textbooks and Supplies
Personal Expenses
Local Travel
As a very rough guide, a participant in the Brockport University of Canterbury Program will need around $500 to $600 per month to pay for daily local travel, textbooks and other school supplies, entertainment, meals and other necessities.
The actual amount that you will spend depends heavily on your style of living, and will vary with each individual's personal spending habits, entertainment preferences and travel choices.

Note: We strongly recommend that you purchase trip insurance to cover loss of luggage, cancelled/missed flights, missed/cancelled program, etc. In the event that you cannot attend a program (for example, with a medical emergency or U.S. State Department Travel Warning), such insurance can cover loss of program fees resulting from a cancelled program.

Financial aid applies towards fees. Please be sure to check with the Financial Aid Office at your home school. If applying or receiving financial aid, you will need to give the Financial Aid Office (at your home school) a copy of your acceptance letter and budget sheet.
---
*Varies depending on the SUNY campus at which the participant pays tuition.
**The SUNY International Health Insurance is mandatory and will be included in the student's Brockport invoice.

The cost (and items included in the cost) as listed on the website are subject to change and should be considered estimates. Final budget sheets will be mailed to the student prior to departure and usually upon acceptance.
Courses
For more information on the specific courses available, please visit:
http://www.canterbury.ac.nz/courses
Students will be charged a late fee if their in person enrollment is not completed by the first day of classes at the University of Canterbury, New Zealand ($200NZD). Students must do an "Application to Enroll" on line (instructions will be in the accept letter from UC, NZ) and finalized in person during orientation in New Zealand. If the date is missed by the student, the late enrolment fee will be the student's responsibility.
Credits:
Students must study a minimum of three or four courses. Students are required to take a full course load (3-4 courses per semester). The university is only partially semesterized. Some courses run first semester, some second semester, and others are full year courses only. Courses also have different point values for credit.
Curriculum:
Participants in the Brockport University of Canterbury Program will select (prior to departure) courses available to study abroad students at the University of Canterbury. All instruction in the Brockport University of Canterbury Program is by the University of Canterbury faculty. Participants in the Brockport University of Canterbury Program are examined in the same manner (and to the same standard) as their New Zealand counterparts and classmates. The majority of courses in which they will enroll are examined formally at the end of the semester and in order to be awarded the credit, participants must take-and pass-the examination at the end of the study period in question. The University of Canterbury method of assessment is also distinctive. It has a system of internal assessment in which courses are assessed during the year. This supplements the end-of-year examinations. It provides feedback on performance, which is an essential part of successful university study.
View a list of the possible academic subjects offered by the University of Canterbury Program as well as all of Brockport's university programs in New Zealand, here:
Academic Subjects- Programs in Australia and New Zealand.pdf
Student Testimonial: Abigail Carkner

Abigail studied abroad at the University of Canterbury for her Spring 2017 semester. She is a Senior at the College at Brockport, majoring in Environmental Science with a concentration in Environmental Chemistry. When asked what her favorite about the University of Canterbury (UC) was, she replied with "The people, as generic as it is. The people were so welcoming and nice. Being away from home, that far for that long, is intimidating and the people in the community made the transition very easy." Abigail also wants students to know that the UC Campus is located halfway down the South Island, making it effortless to travel and explore! Pictured below you will see Abigail with her friends at Hookey Valley Lake, Mount Cook and a picture of Abigail herself at the Milford Sound, sometimes referred to as the "8th Wonder of the World". Feel free to email Abigail if you have any questions about the UC Campus and student life. Her email is acark1@brockport.edu. Thanks for sharing Abigail!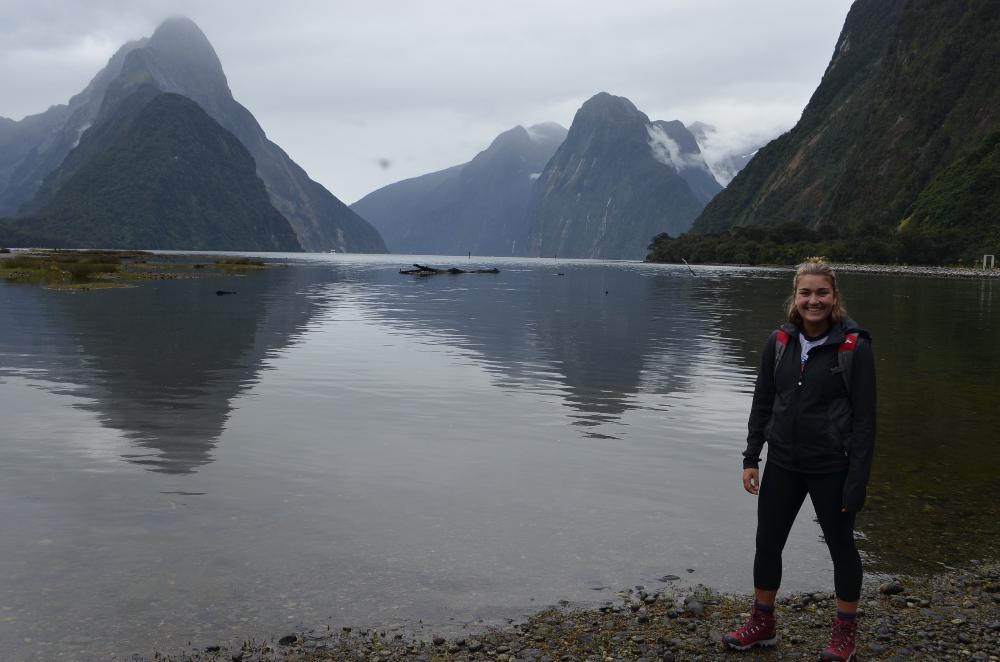 Dates
Fall 2020 (est):
July 6th - November 7th, 2020
Spring 2020 (est):
February 22nd - June 26th, 2020
Important note: Please do not book your travel arrangements until you have received the official Travel Memo from your program advisor.