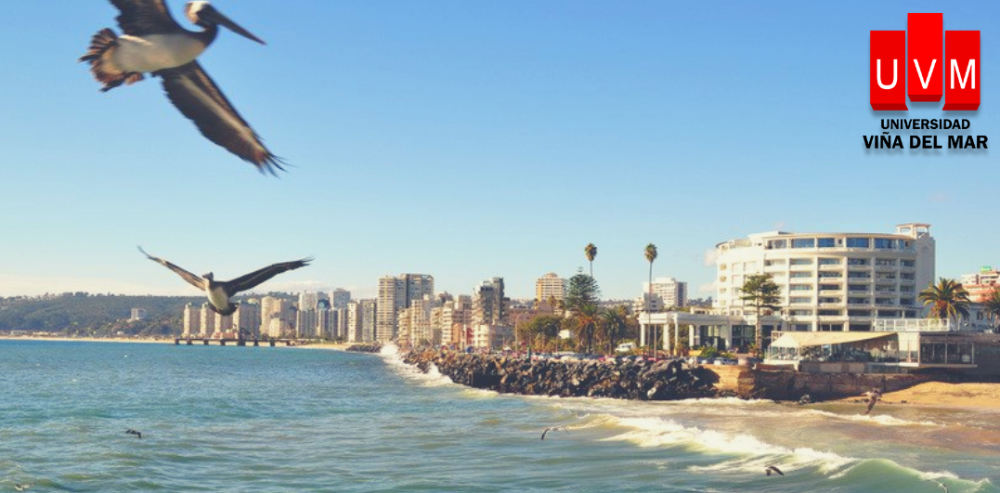 About Universidad Viña del Mar
The University of Viña del Mar is a private institution of high education with more than 6.700 students. Accredited since 2008, it has a long tradition of 21 years of distinguished education. The university is one the most important private universities in the country. Its headquarters is located in Viña del Mar, the main touristic city of the country. The University has a modern campus located in the upper area of the city. The campus lies on 20 hectares of land and has state-of-the-art technology and infrastructure.
International students have the opportunity to take courses for one or more semesters at the UVM schools with Chilean students, or in short-term programs. Courses and degrees are transferred to other universities around the world. Overall, the University of Viña del Mar has had an excellent reputation within the South American academic community for more than 20 years. Foreign students earn college credits upon completing the program and have the transcript sent to their home school. The 10 schools of the Universidad Viña del Mar offer a wide variety of careers to international students: Architecture, Arts and Design, Social Sciences, Agricultural Sciences, Health Sciences, Communications, Education, Engineering, Business and Law. There is also a Spanish Center with 8 years of experience teaching international students in order to master their Spanish skills. Besides UVM has a variety of programs for foreign students such as International Programs of Double Degree; Thematic tailored programs for International Universities: Human Rights, Travel Literature, Public Health, Environment, Chilean and Latin American Film, Business, Earthquakes & Tsunamis; and International Volunteer Programs in Chile.
YouTube:
http://www.youtube.com/watch?v=YA9OYjWPvwM
The City
Viña del Mar and Valparaíso are two sister cities that jointly offer the greatest university experience. They have the largest number of universities and students in Chile, what makes it an attractive center for educational and business institutions. Viña del Mar is located in the central area of the country at the foot of the Andes Mountains and its coasts are bathed by the Pacific Ocean. Its diverse geography, wonderful nature and fertile valley bring several benefits in terms of connectivity (Santiago, International Airport, Mendoza in Argentina) and recreational and sport activities, food and culture.
Viña del Mar is an ideal city for having activities outside the campus. Students will live a couple of minutes away from the beach and 2 hours away from ski centers. Every weekend, there is something interesting to do. Extracurricular activities include sports and recreational activities (soccer, basketball, tennis, etc.); cueca classes (Chilean national dance); local sightseeing and excursions to places like Isla Negra (one of Pablo Neruda's houses) and the cities of Valparaiso and Santiago, the National Congress building; horseback riding; wine tours, picnics and zip lining in a National Park; paintball; photo contests; talent shows; Chilean movie club; and any other activity that may come up.
The Culture
Chile is located in South America. Its bordering countries are Peru and Bolivia in the North and Argentina to the East. Its natural borders are the Pacific Ocean to the West and the Magellan Strait to the South. Chilean geography is best known for its variety of climates and sceneries. Arid desert, fields of fruits and beautiful beaches, volcanoes, lakes, world's second largest rainforest, plus fjords and canals, pampas and glaciers. Well known Easter Island is off the coast. The deserts in the North, the central valleys, and the Lakes Regions in the South make Chile an ideal place for vacation and adventure. Throughout the years, Chile has become a politically stable country with a growing economy which, in turn, makes it a safe and perfect place to immerse oneself in the culture. Chile's population is about 16 million. Official language is Spanish, and its currency is the Chilean peso. Overall, it is a "mestizo" country, of mixed European and indigenous extraction.

Viña del Mar, known as "The Garden City" was founded in 1874. It is considered as the capital of Chilean tourism, for it is the most important resort area in Chile along the Pacific shoreline. Viña del Mar is part of the Valparaiso Region and it is located next to the Capital City of Santiago, as well as links with sister-city Valparaiso with is the main seaport and seat of Parliament. The climate is similar to San Francisco in the US, Blue Coast in the Mediterranean Sea, Cape Town in South Africa, and Perth, Australia. Average summer temperature (December – March) is 68 degrees (F), and in winter, -59 degrees (F). The crime rate is very low in Viña del Mar, and staff there advises students about it.
Chilean Spanish has its own characteristics. You will notice that in general Chileans speak fast and not really clear. However, you will get used to it, so don't worry. They commonly do not pronounce the "s" on ends of words. Chilean Spanish has some words for things that are different than Standard Spanish. You may hear the second person singular pronounces as "ai" rather than "as". For example, "¿Como estai?" rather than "¿Cómo estás?" It may sound strange at first, but it's part of the beauty of the language.
Housing & Orientation
Housing:
The program offers housing with Chilean families which have experience hosting international students. This includes a comfortable individual room, 3 meals per day, laundry and internet. Host families are chosen based on a housing questionnaire completed by the students.
Orientation:
The program includes airport pick-up transportation to Viña del Mar (if students arrive on the recommended day) and an Orientation is organized for an appropriate development of the program and immersion in the Chilean culture and in the city.
Cost
Fees for Brockport's Universidad Viña del Mar, Chile Program
Budget Sheet for the Undergrad Program (Fall 2019):
$9,965.10
(Estimated Cost for Courses in Spanish);
$10,415.10
(Estimated Cost for Courses in English)
Budget Sheet for the Undergrad Program (Spring 2020):
$9,965.10
(Est. Cost for Courses in Spanish);
$10,415.10
(Est. Cost for Courses in English)
INCLUDES:
Tuition
SUNY International Health Insurance*
Various campus-specific fees** (college fee, technology fee, etc.)
Program acceptance fee
Pre-departure orientation materials
On-site Orientation Program in Chile
Home-stay Housing
Most Meals (21 meals per week)
Laundry Service
Study Materials
Courses in Spanish

or

English, and
Brockport's Study Abroad Office Services

DOES NOT INCLUDE:
Airfare to and from Chile
Travel while in Chile
Passport
Student Visa
Personal Expenses
The actual amount that you will spend depends heavily on your style of living, and will vary with each individual's personal spending habits, entertainment preferences and travel choices.
Financial aid applies towards fees. Please be sure to check with the Financial Aid Office at your home school. If applying or receiving financial aid, you will need to give the Financial Aid Office (at your home school) a copy of your acceptance letter and budget sheet.

*SUNY International Health Insurance is mandatory and will be included on the student's Brockport invoice .
**Varies depending on the SUNY campus at which the participant pays tuition.
The cost (and items included in the cost) as listed on the website are subject to change and should be considered estimates. Final budget sheets will be mailed to the student prior to departure and usually upon acceptance.
Courses
*Brockport will not award more than 18 credits regardless of the amount of credits taken at the university.

INCLUDES:

* TUITION
* Program acceptance fee
* Most meals
* Housing
* Pre-departure orientation materials, advisement and counseling
* On-site orientation upon arrival in Costa Rica
* Brockport's Study Abroad Office Services

DOES NOT INCLUDE:

* Health Insurance*
* Passport
* Various campus-specific fees** (Student Government, Technology Fees, etc.)
* Airfare to and from Costa Rica
* Personal ExpensesI. SPANISH PROGRAM (Levels: Beginner, Intermediate, Advanced):
The following courses are all available at the Beginner, Intermediate and Advanced levels unless otherwise noted:
(During the Orientation you will take a placement Spanish exam that will determine your eligibility for these courses).​
Communication Skills: Grammar & Composition
Communicational Spanish & Chilean Culture
​Phonetics
Chilean Music
Contemporary Events in Latin America
Cultures in Contact
Indigenous History of Chile: Discovering of Two Worlds and the Conquest
Latin American Film
Latin American Literature (Requires Advanced Level of Spanish)
​Latin American Social Movements
Socioeconomic Evolution of Latin America
Contemporary Issues in Latin America (Requires Advanced Level of Spanish)
​Socio-Political History of Chile in the 20th Century (Requires Intermediate Level of Spanish)
To read more about these courses, click visit:
Spanish Semester.pdf

II. UVM SCHOOLS COURSES:
If you have an advanced level of Spanish (B2/+) you are eligible to participate in typical classes in the university. In order to take courses in the different UVM departments (with Chilean students), please visit the following web site in:

http://admision.uvm.cl/ - Choose the 4th tab that says "Escuelas y Carreras" (Schools and Majors) and choose which area of study you want to take and which courses you would like to take according to the semester you will be at UVM.

III. COURSES IN ENGLISH:

https://www.uvm.cl/wp-content/archivos/uvm-semester-english-program.pdf

Business Courses:
Strategies of International Marketing
Management Skills and Crisis M.
Social Responsibility of Business
Freedom and Responsability: A New Understanding of Ethics

Social Sciences Courses:
Gender and Minorities Studies
Human Rights in Latin America
Social Inequality, Exclusion, and Democracy
Latin America Regional Scenario in the XX century
Poverty Reduction and Sustainable Development

Humanities- Liberal Arts Courses:
Latin America History of Ideas
Globalization of Art and its Marketing

Environmental Studies Courses:
An Approach to Sustainable Development and Green Economy
Sample Syllabi (2013):
An Approach to Sustainable Development and Green Economy
Latin American Scenario in XX century 02
Freedom and Responsibility
Strategies of International Marketing
Social Inequality, Exclusion and Democracy
Indigenous Peoples in Chile
Human Rights Transitional Justice
Negotiation Strategies in Latin America
Poverty Reduction and Sustainable Development
Gender and Minority Studies in Latin America
View a list of the possible academic subjects offered by the Universidad Viña del Mar Program as well as all of Brockport's university programs in Central and South America, here:
Academic Subjects- Programs in Central and South America.pdf
Dates

Fall 2020 (est): July 18th - November 28th, 2020

Spring 2020 (est.): February 22nd- July 11th, 2020
Important note: Please do not book your travel arrangements until you have received the official Travel Memo from your program advisor.