About the Greece: Food, Art & Culture Studies of the Aegean Summer Program

Our program is based on experiential learning and focused on the senses--the sight, aroma, and taste of the diverse foodstuffs that comprise the acclaimed Mediterranean diet. Students learn how the cultivation, trade and ritual celebration of foods like olives, grains, honey, cheese and grapes played a major role in the development of Greek culture and the artwork of their ancient civilization and-- just as important, how these foodstuffs and expressive arts inform cultural practices in Greece today!

From museum and archaeological site visits, to interactions with food producers, market vendors and chefs; to biological tours and field trips to seaside and mountain villages on the beautiful Greek island of Kea and the Peloponnese Peninsula and Mani, students learn about Greek art and experience how the Mediterranean diet (derived from wild and cultivated sources like olives, olive oil, wine, honey, grains, legumes, nuts, seafood and meats) is not just a way of eating---but a lifestyle rooted in biodiversity, sustainable community-based food production and long-standing cultural traditions of art, music, and dance!

Upon arriving in Athens we are greeted by our hosts, representatives from the renown Athens Centre. Located in the Athenian neighborhood of Mets, just a fifteen minutes walk to the Acropolis and the Parliament building downtown, the Centre and its lovely courtyard will be our "home-base" during the time we are in the city.
Link here: www.athenscentre.gr
https://youtu.be/nHQQYP0XL68

While in Athens, we attend lectures on Greek mythology and art, exploring its relationship to native plants and foodstuffs.Guided by an Athens Centre representative, we visit local and central markets of Athens and go on a guided tour of the ancient Acropolis and the award-winning Acropolis Museum which sheds further light on associations of Greek gods and goddess with foodstuffs. We also tour the ancient Agora, view a temple dedicated to Demeter, the goddess of grain and note the vital ways the marketplace was at the center of Greek philosophical thought, democracy and artistic endeavors. These guided excursions, along with lectures and discussions with Greek archaeologists, scholars and artists and meetings with restaurateurs, chefs and producers and distributors of olive oil and honey deepen students' experience of Greek art, foodways and cultural practices.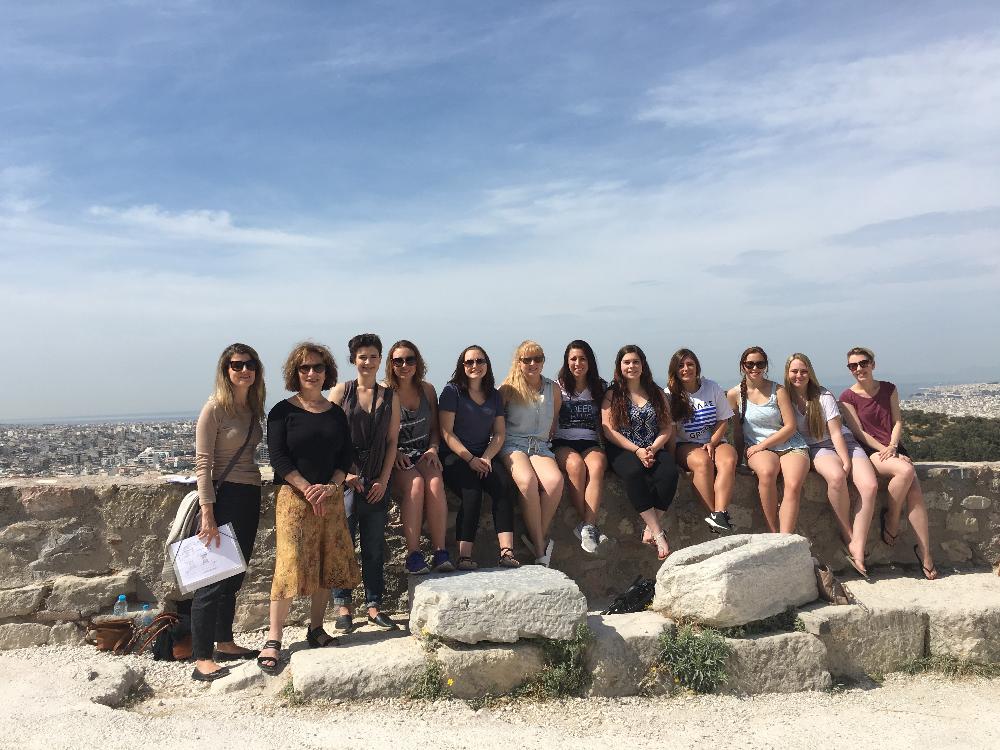 After three stimulating days in Athens, we set out for the beautiful Cycladic island of Kea and from there to explore the Peloponnese Peninsula and Mani, in the south-most tip of peninsula. Over the next week, we travel by van through these diverse landscapes, visit local museums, ancient sites, olive groves, wineries and magical caves with underwater passages. Each day brings a new experience where we learn about local food-related practices and the roots of Mediterranean cuisines in the biodiversity of local herbs and plants.

Located in the Aegean Sea, the Cycladic island of Kea or Tzia is within easy reach of the bustling metropolis of Athens. Only an hour ferry ride away from the port of Lavrion, Kea is a popular destination for weekend getaways among Athenians, who have restored many of its elegant houses.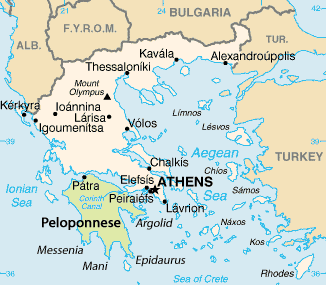 Lush with exceptional beaches, panoramic views, walking paths and forests, in antiquity Kea was considered the island of nymphs who kept the island green and lived near its springs. Its prehistoric history dates back to Neolithic times around 3300 BC. Around 1200 BC it was colonized by Ionians and by the 6th century BC its main cities like Ioulis were trading with civilizations as far away as Egypt. Its culture and art developed along sanctuaries to Greek gods and goddesses. During the early Byzantine period many churches were built. In the 13th century Kea fell to the Venetians who built a castle on the acropolis of Ioulis. For a period of time, the island also became a stronghold for pirates and was later occupied by the Ottoman Turks.

A day in the relaxing town of Ioulis (where cars are banned) and a visit to a private museum and dinner in the garden provides insights into the island's long history. Kea is known for the production of acorn, barley, wine, honey and dairy products and a field trip to a local farm allows students experience some of the ways in which the peoples of island continue to retain and incorporate cultural and culinary practices.

Departing from Kea after two days, we travel to the famous archeological site and theatre of Epidaurus deep in the mountains of the Peloponnese Peninsula of Greece. Known in antiquity as the most celebrated healing center of the Classical world, Epidaurus was dedicated to the Greek god of healing and medicine, Asclepius. A guided tour by an archaeologist reveals the power of the place.

From Epidaurus we travel a short distance to Nafplio, considered one of the loveliest seaside cities of the Peloponnese Pennisula. Our stay in the city includes a visit to local distillery and tasting of its products made from local herbs and berries and quality time on one of nearby local beaches.

Our last leg of our adventure in Greece is travel to the rugged southern most region of Greece known as the Mani Peninsula and home to the ancient Spartans. There we visit local villages and get involved in a bread making activity using a traditional oven, visit olive groves and see how it is produced and engage in a pasta making workshop. One of the highlights of our experience is a boat tour of the flooded Diros caves with their underwater passages.
Abandoned in 4th century BC they are known for their extraordinary beauty.

Arriving back in Athens after two days on the Mani Peninsula, we present some of our findings at the Athens Centre, and end our journey at a restaurant within sight of the Acropolis.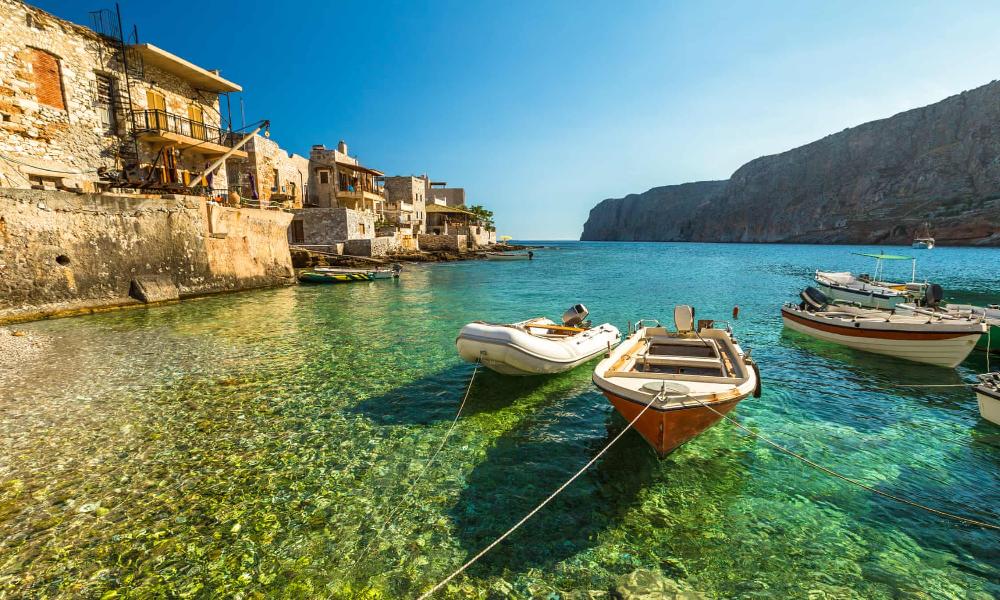 Please contact faculty-leader, Dr. Christine Zinni at czinni@brockport.edu for more information.
Housing and Orientation
Housing in Athens will be in a hotel near the Acropolis. Students will stay in hotel accommodations (doubles or triples) for the duration of the program on the Greek islands.
Cost
Greece: Food, Art and Culture of the Aegean
Budget sheet for Summer 2020: $3,929.12 (Estimated)

INCLUDES:
Tuition (3 Credits)
Program Acceptance Fee
Various campus-specific fees** (college fee, technology fee, etc.)
Pre-departure orientation materials
On-site orientation
Accommodation in double or triple occupancy hotels
Some meals
Transfers to/from airport on arrival and departure if students arrive on a group flight
In country transportation
Program activities and excursions
Entry fees to sites and museums
24 Hour Emergency Assistance
SUNY International Health Insurance*
support from Athens Centre during weekdays
a bilingual Athens Centre representative to accompany the group
Brockport's Study Abroad Office Services including a Brockport Faculty director

Does NOT include:
Transportation to/from Greece
Passport
Additional meals
Miscellaneous Expenses (this includes entertainment, souvenirs, laundry, etc.)
The actual amount that you will spend depends heavily on your style of living, and will vary with each individual's personal spending habits, entertainment preferences and travel choices.
Financial aid applies towards fees.
*The SUNY International Health Insurance is mandatory and will be included on the student's Brockport invoice.
**Varies depending on the SUNY campus at which the participant pays tuition.

We strongly recommend that you purchase trip insurance to cover loss of luggage, cancelled/ missed flights, missed/cancelled program, etc. In the event that you cannot attend a program (for example, with a medical emergency or U.S. State Department Travel Warning) such insurance can cover loss of program fees resulting from a cancelled program.​


*This summer program is contingent upon having a sufficient number of participants enrolled in the program.
Courses
Students will earn 3 upper-division credits.
Itinerary (Est)
Monday, May 17
Arrival in Greece
Bus to hotel if arriving on group flight
Walking orientation to hotel area
Welcome Dinner at a traditional taverna

Tuesday, May 18
Orientation at the Athens Centre
Walking orientation to central Athens & central market (Varvakeio Agora)
Dance class at the Athens Centre

Wednesday, May 19
Visit to Acropolis
Visit to Acropolis Museum
Olive oil tasting at 4 Seasons

Thursday, May 20
Bus to Lavrion, boat to the island of Kea
Bus to the island town of Ioulis, walking orientation to town. Lunch in Ioulis
Free time for beach
Pm: Visit to Red Tractor farm, see products made from island acorns and other products, visit the facilities
Overnight Kea

Friday, May 21
Free morning (beach time)
Visit Aristaios traditional shop and engage in various activities: visit to a traditional watermill. Visit a private folklore museum, owned by his family, Andreas Mouzakis will talk to you more about the history of the island. Dinner in their private museum garden
Overnight Kea

Saturday, May 22
Boat from Kea to Lavrion
Bus to Argolis
Visit to site and museum of Epidaurus
Bus to Nafplio: lunch at the beach & free time
Bus to Nafplio & check-in
Karonis ouzo tasting
Overnight in Nafplio

Sunday, May 23
Skouras winery in Argos
Bus to Mani
Bread making in traditional oven in a village
Visit local kafeneio of the village: Greek coffee and spoon sweet: here we can do a workshop on food sustainability with treasure hunt at the food stores. Discussion at the kafeneio
Overnight in Mani

Monday, May 24
Visit traditional olive oil
Cooking workshop for local pasta and lunch
Guided visit to a traditional Tour and discover the history of Mani
o/n Mani

May 25
Sea salt collection
Visit Diros cave: flooded caves of extraordinary beauty. Neolithic site, abandoned in 4BC after an earthquake. The caves form a complex network of underwater passages
Lunch on the beach
Bus to Athens

May 26
Presentations at the Athens Centre
Farewell dinner

May 27
Depart for the U.S.
Bus to airport for group flights only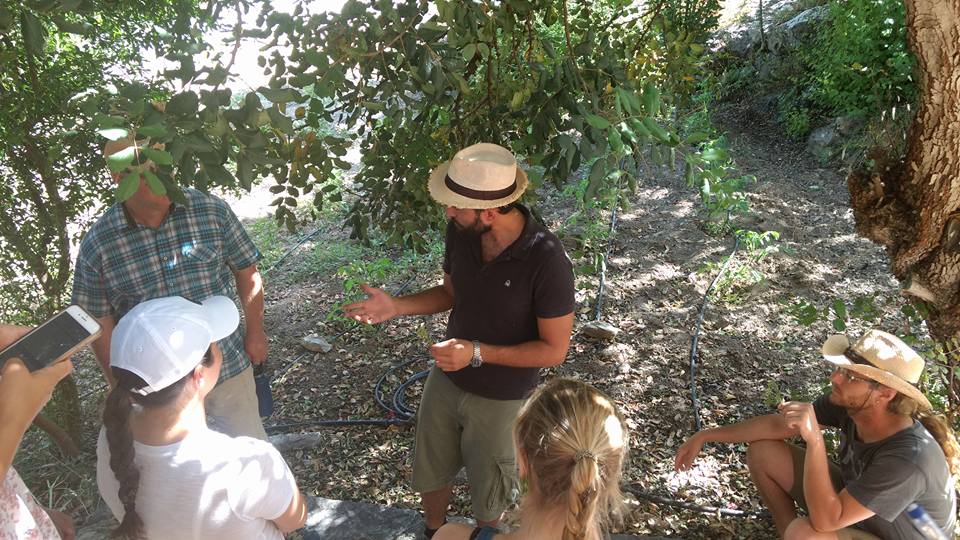 Student Testimonials
"I am currently a Junior at SUNY Brockport, pursuing a Bachelors degree in Political Science and a minor in International Studies. I decided to study in Greece because I wanted to learn about Greek food and culture in a non-traditional way. My reward for the investment of my time and money is memories that will last a lifetime, and knowledge of the region which can only be achieved through a hands-on learning process. Before studying abroad, I couldn't be 100% sure that I chose the right majors/minors. Within 5 minutes of landing in Athens, I KNEW I had made the right choice. International Studies is absolutely my niche and I have my study abroad experience to thank for that realization. After graduation, I plan to pursue a Masters degree in International Studies with certification in Middle Eastern Studies. I can not wait to have another wonderful learning experience outside of the U.S."
- Tiffany Staats, Past Participant
Dates
Summer 2020- May 17 - 27, 2020