About DHBW Heidenheim
Baden-Wuerttemberg Cooperative State University (known in Germany as the DHBW) is the first higher education institution in Germany to integrate academic studies with workplace training. At present, there are 10 campuses spread out over the Federal State of Baden-Württemberg with roughly 34,000 students and about 9,000 co-operating companies. DHBW Heidenheim utilizes a dual system of education, which provides a practice-oriented education involving both employers as well as state-run academic institutions. This system has a long tradition in Germany. "Duale Hochschule Baden-Wuerttemberg" - Baden-Wuerttemberg Cooperative State University - represents the extension of this dual system of learning into the field of higher education. Internationalization is one of the most important strategic goals of Baden-Wuerttemberg Cooperative State University Heidenheim.
Heidenheim is situated between Stuttgart and Munich, just north of Ulm and forms part of the "Schwäbische Alb" in the South of Germany. The name "Heidenheim" was first mentioned in documents in the 8th century as a small village consisting mainly of farms. The city was founded in connection with the building of the castle at the beginning of the 12th century. It began as a castle settlement and was given ''market right'' in 1356. The castle itself was destroyed by a fire in 1530. It was rebuilt at the end of the 15th century and some ruins still remain today. In the so-called ''Knights' Hall'' there are music festivals and operas held every summer. Heidenheim's development as a city began in the early 19th century with the progression of the metalworking and textile industries. The most influential companies being J.M. Voith, Paul Hartmann and Carl Zeiss. Today, Heidenheim is the economic center of the region.
Heidenheim is very conveniently located in the middle of some of the most scenic places in Germany. It is near the border to Bavaria, with all its restored and well-kept castles, and it is also near the Rhine river, where you can travel and see ruins of castles every few kilometers. You can take the train to every city in the country, and it is very easy to make train trips to other cities in Europe. Within a few hours, you can be in Munich, Stuttgart, Nueremberg, Heidelberg, Karlsruhe, Tuebingen, Rothenburg ob der Tauber (only 100 km), Freiburg, and of course, the most famous castle of all - Neuschwanstein (the inspiration for the Walt Disney Castle). It is also possible to take the train or a coach to the capital city, Berlin, in approximately 7 hours.
Visit DHBW Heidenheim's website here:
http://www.heidenheim.dhbw.de/english/home/study-programmes.html#tab-7855-1
Housing & Orientation
Housing:
Most students stay in private apartments (mostly shared with other students) or similar accommodations for the duration of the semester. DHBW Heidenheim supports students by providing an apartment list along with helpful sites to guide students in finding a place to stay.
Orientation:
Before classes start, students will take part in an orientation program which will include a group excursion.
Cost:
Budget Sheet for Undergrad Program (Fall 2019)
$5,765.26
(Estimated cost for Undergraduate In-State tuition)
$9,205.26
(Estimated cost for Undergraduate Out-of-State tuition)
Budget Sheet for Undergrad Program (Spring 2020)
$5,765.26
(Estimated cost for Undergraduate In-State tuition)
$9,205.26
(Estimated cost for Undergraduate Out-of-State tuition)
INCLUDES:
Tuition
Program Acceptance Fee
SUNY International Health Insurance*
Various campus-specific fees (college and technology fees)**
Pre-departure Orientation Materials
On-site Orientation in Heidenheim, and
Brockport's Study Abroad Office Services
DO NOT INCLUDE:
Airfare to and from Germany
Passport
Residence Permit
German Health Insurance
Housing
Meals while in Germany
Public transportation fee
Heidenheim Student Service fee
Textbooks/supplies
Miscellaneous expenses
The actual amount that you will spend depends heavily on your style of living, and will vary with each individual's personal spending habits, entertainment preferences and travel choices.



Note: We strongly recommend that you purchase trip insurance to cover loss of luggage, cancelled/missed flights, missed/cancelled program, etc. In the event that you cannot attend a program (for example, with a medical emergency or U.S. State Department Travel Warning), such insurance can cover loss of program fees resulting from a cancelled program.
Financial aid applies towards fees.
*The SUNY International Health Insurance is mandatory and will be included on the student's Brockport invoice.
**Varies depending on the SUNY campus at which the participant pays tuition.
The cost (and items included in the cost) as listed on the website are subject to change and should be considered estimates. Final budget sheets will be mailed to the student prior to departure and usually upon acceptance.
Courses
Credits:
Participants will normally earn 12-15 credits for a semester at DHBW Heidenheim. Students will earn ECTS credits in Heidenheim. US credits are worth approximately half of ECTS credits (a 6 ECTS course will equate to 3 US credits), so students need to take at least 24 ECTS per semester.
Courses:
As an international exchange student, you have a selection of courses taught in English across different subjects. For a list of courses, click here:
Heidenheim English Modules 2020-2021.pdf
For course descriptions, visit:
Heidenheim Module Descriptions
Internships
Students who have studied at Heidenheim for at least one semester have the option to do a full-time internship for a second semester abroad. The most common time to do an internship is during the Spring semester, after students have done a full study semester at Heidenheim in the Fall. The DHBW International Office will assist with finding an internship. Please note that the period for an internship must be between 4-6 months. Most companies take students when they can stay for an internship for 6 months. It is preferred that a student knows about their internship prior to their study semester so that the International Office can begin working on arrangements.
Students should have a good command of German as most companies ask for B1 or B2 level proficiency. Sometimes a students can get in internship without knowing German but this is usually at bigger companies and mostly if a student has an engineering background. DHBW will do a job-application-training for students who are interested in an internship at the beginning of October. Students will be invited for job interviews during their study semester. The internship must be related to your field of study and a requirement of your major.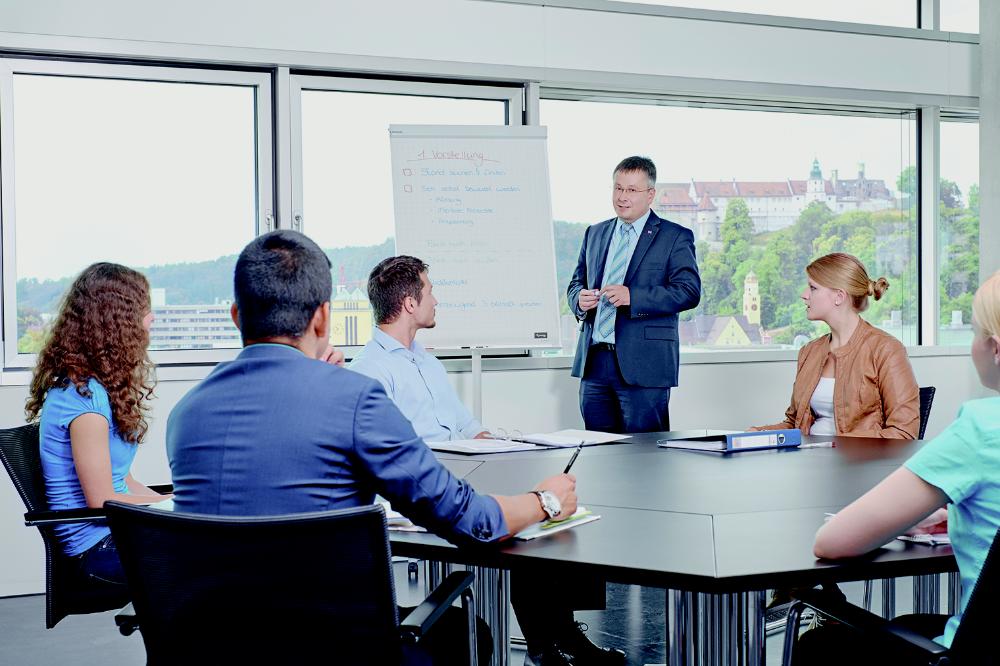 Dates
Fall 2020 (Est): October 1st - December 23rd
Spring 2021 (Est): March 28th - June 20th
Important note: Please do not book your travel arrangements until you have received the official Travel Memo from your program advisor.