About the International Study of Culture and Leisure Winter Program
This course examines New Zealand's history, culture, political and social systems, natural environment, and their impact on leisure values and choices. Explores how nature and culture create and transforms individual experiences. Involves traveling through the North and South Islands of New Zealand and experiencing fjords, glaciers, caves, mountains, geothermal areas and cultural events while applying experiences to directed coursework.
Testimonials from the 09-10 group:
You know the saying "opened your eyes to the world?" New Zealand does not just "open your eyes" but rather glues them open to a world that is full of life. New Zealand was a trip I could never forget. I gained long lasting friends that have impacted and continue to impact my life. The experiences in New Zealand were different for each individual but for me they have changed the way I view life. I now find myself looking for the next big step in my exploration of the world at every turn. It is such a diverse and culturally filled country it is a trip you would not want to miss. New Zealand sparked a fire in my desire to do and see it all!
-Austin Townsend
New Zealand has been one of the most rewarding and enriching experiences of my life. To me traveling means meeting new people, making new friends, and most importantly, learning about yourself. I have found that when you become immersed in a new experience you can view your life from an "outside the box" perspective, and only then can you truly find who you are. From the bottom of my heart, to you and Meg, thank you. I can't even begin to count all the times when I thought to myself, "there is no place I would rather be than right here, right now."
-Brandon Nunnery
During my study of Culture and Leisure in New Zealand I learned how different cultures interact outside of the United States. Before this study abroad I was unaware of various aspects of New Zealand, but in these short three weeks I learned about their culture, government, and economy. This course was not only informative but I had the experience of a lifetime when I went Skydiving, Kayaking, White Water Rafting, Surfing, and Bungy Jumping! We also had one of the best dinners of my life with their native people, the Maori. This was the experience of a lifetime and I will always remember the amazing trip with all of my new friends in New Zealand!
-Sean Donahue

Program Brochure:

NZ Brochure.docx

For more information about this program, please contact the faculty leader Dr. Pam Haibach at phaibach@brockport.edu.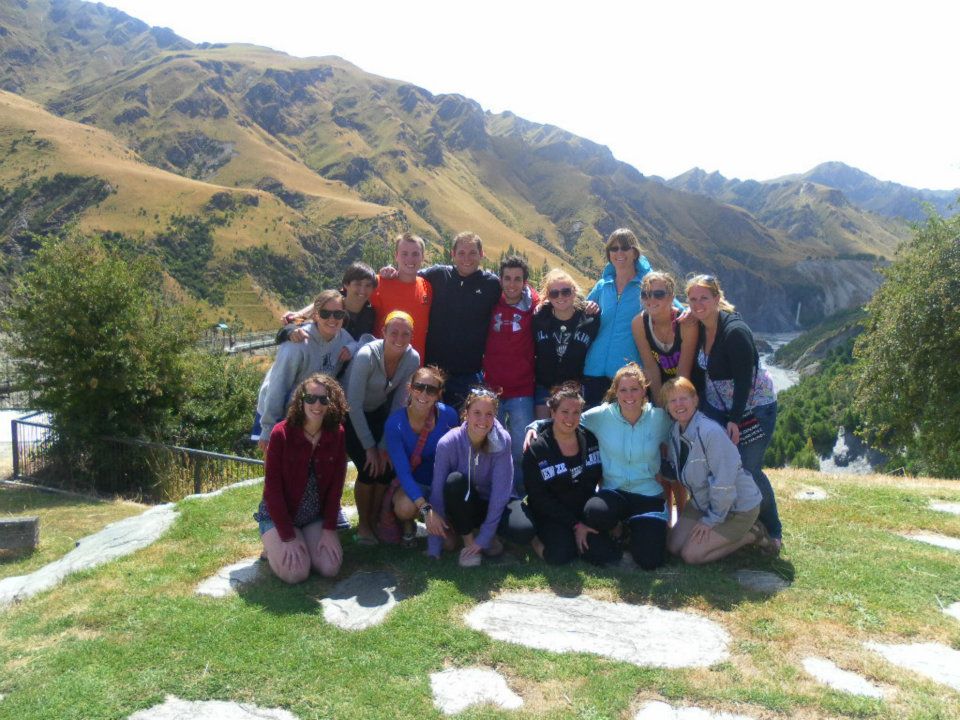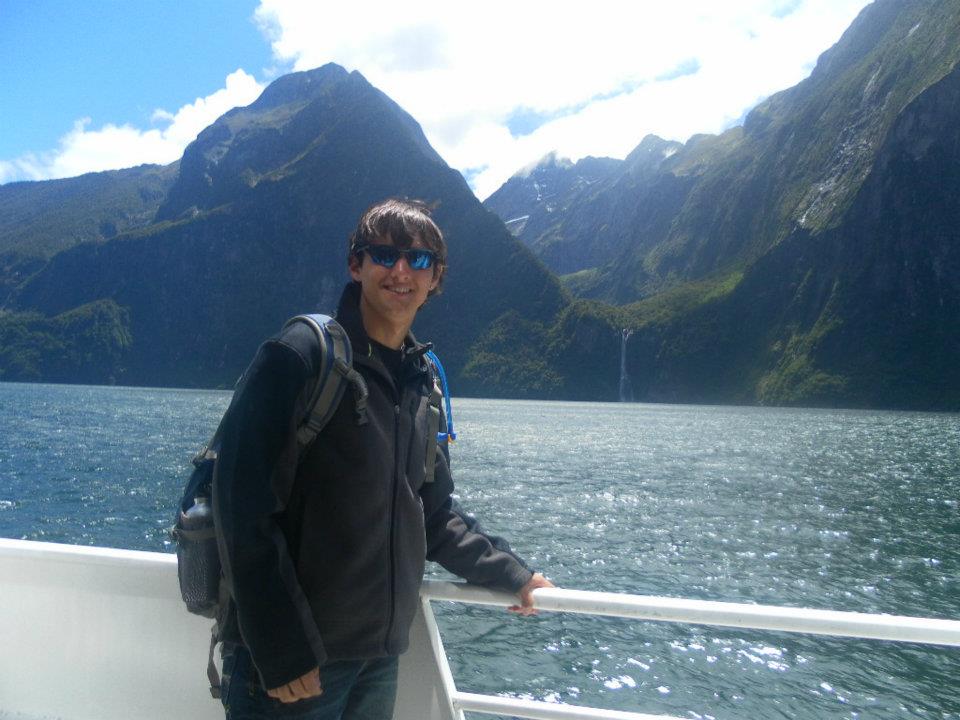 Housing & Orientation
Students will attend orientation sessions prior to the program to become familiar with classmates, to discuss travel arrangements and learn about the course material.
Cost
Fees for Brockport's New Zealand: International Study of Culture and Leisure Winter Program
Budget Sheet for the Undergrad Program (Winter 2017/18): $6,275.49 (Estimated)

INCLUDES:
Tuition for 3 Credits
Program Acceptance Fee
SUNY International Health Insurance*
Various Campus Fee** (college fee, technology fee, etc.)
Round-trip Airfare from Newark, NJ to New Zealand
Lodging (mostly in youth hostiles)
Entrance and Excursion fees
Program Travel within New Zealand
and Brockport's Study Abroad Office services including the presence of a field Director.
DOES NOT INCLUDE:
Passport
Round-trip Transportation to Newark, NJ
Meals
Text Books and Supplies
Personal Expenses
Financial aid applies towards fees.

Please be sure to check with the Financial Aid Office at your home school. If applying or receiving financial aid, you will need to give the Financial Aid Office (at your home school) a copy of your acceptance letter and budget sheet.

*The SUNY International Health Insurance is mandatory and will be included on the student's Brockport invoice.
**Varies depending on the SUNY campus at which the participant pays tuition.

The cost (and items included in the cost) as listed on the budget sheet are subject to change and should be considered estimates. Final budget sheets will be mailed to the student prior to departure and usually upon acceptance.
Courses
Credits:
Participants will receive three (3) undergraduate credit hours for this intersession program.
Assignments:
TERMS: OE=Overseas Experience; the time we are actually in NZ
Kiwis-New Zealanders
Movie Analysis- Whale Rider, 10%
Purpose: The New Zealand (NZ) culture continues to be strongly influenced by the Maori, the native people or indigenous culture. Students will be interacting with individuals from the Maori culture and spending time on a Marae, official Maori meeting grounds. This assignment will help students understand and appreciate the culture and learn appropriate etiquette and behaviors while interacting with the Maori.
New Zealand Research Note Book, 20%
Due: Prior to OE
Purpose: The NZ Research Notebook provides students with a foundation of information about NZ. The NZ Research Notebook requires students to research the history, culture, environmental issues, political and social systems of NZ before the OE. For each topic slide of the NZ Research Notebook, students must research 3-5 facts related to that topic.
Topic Report and Presentation, 20%
Written Report-Due: Prior to OE (10%)/ Report Presentation-Due: During the OE (10%)
Purpose: The purpose of the Topic Report is to have students thoroughly investigate a specific topic related to NZ. Students will conduct a 15-20 minute presentation about their topic to the rest of the class during the OE. Presentations should promote some form of group participation e.g. brainstorming, trivia, etc.
Daily Journals, 30%
Due: Graded weekly (3 times during OE)
Purpose: The journal promotes the ability to make observations, analyze situations and form a perspective using critical thinking skills. The journal entries will focus on a variety of topics related to NZ culture and leisure. Journal entries can include observations about etiquette, language, social norms, subcultures, leisure, education, health care, politics, diversity/equality, technology, lifestyles, values, etc. Students will write 1 page of observations each day.
Group Forums and Participation, 20%
Due: During OE (Usually 2 times a week)
Purpose: Group forum sessions provide an opportunity for students to share their observations and perspectives. Each student is expected to initiate topics and to actively participate in group forums. Forums will address cultural, social, political, economics, technology, customs, values and traditions.
Tentative Schedule
Day 1: Arrive in Auckland, NZ
After exchanging our money we'll load the bus, and depending on our arrival time, go directly to the scenic, densely wooded Waitakere Ranges and the Arataki Visitor Centre where you will receive your first orientation to NZ's unique geography, flora and fauna. Next, we drive to Lion's Rock and the black sand beaches of Piha, one of Auckland's most visited surf beaches. Hopefully, the weather will be in our favor and we can use the boogie boards to ride the Tasman Sea waves. We will return to Auckland, the largest city in NZ, commonly referred to as the "City of Sails" because it has moresailboats per person than anywhere else in the world. We will visit the Skytower, the highest tower in the Southern Hemisphere. We are able to accomplish so much in one day because it is New Zealand's summer and it doesn't get dark until 9:30 p.m. (It is dark by 4:00 p.m. in New York)
Day 2: Auckland – Paihia
Traveling north this morning we will head to the Bay of Islands that is frequently populated with dolphins. Around mid-afternoon you will be dropped off at the Paihia wharf where you will be boarding "The Rock Boat" for your overnight cruise. You will be kayaking,clay bird shooting, fishing, mingling with individuals from all over the world and the fun-loving crew, eating a delicious BBQ and swimmingat midnight while the New Year's Eve fireworks reflect off the water, All rooms on the boat have patio doors that lead to the outside deck. We will disembark the boat to head to one of the many islands for lunch, and climb a hill to enjoy a spectacular view of the Bay of Islands.
Day 3: Paihia - Tauranga
The Rock Boat will bring you back to the wharf in the late afternoon where Cam will be waiting to take you to Tauranga. This drive has some beautiful scenery, so make sure you have your cameras ready. Most New Zealanders live within 40 minutes drive of a beach and you will experience this today as you head through luscious green farmland to the coast with beautiful golden sand beaches. We'll arrive late in the day.
Day 4: Tauranga
Today you have an option of being able to swim with dolphins, participate in high rope course, learn to surf (own expense & weather dependant) or to climb Mount Maunganui -a dormant volcano. This evening Cam and Amanda will cook a Kiwi BBQ dinner for everyone. This will be a great evening to share your experiences of New Zealand so far and to try some delicious Kiwi (NZ's local) food including tasty burgers, bangers (sausages), and desserts-pavlova, lamingtons and more!
Day 5: Tauranga - Rotorua
We will be traveling south to Rotorua-geothermal capital of NZ and center of Maori (indigenous) culture. We begin with a tour along the lakefront to see a Maori waka (war canoe), then a stroll through the town park to see bubbling mud pools and steamvents and finally experience the Maori culture with the native people including their traditions, music, arts and the famous Haka.
Day 6: Rotorua - Taupo
This morning we will walk through a Redwood Forest with towering trees and go to zorbing at Ogo- think giant hamster ball rolling down a hill with you in it (google it!). Next we travel to Taupo, adrenaline capital of the North Island. We will stop in at the thundering Huka Falls (huka = foam) and then on to the Taupo Bungy (NZ's highest water touch bungy) Taupo is also a great place to try skydiving at the most reasonable priced place in NZ.
Day 7: Taupo - Wellington
We begin with Turangi River Rafting and then travel over the Desert Road and through the Tongariro National Park, including the infamous Mount Ngauruhoe "Mount Doom" from Lord of the Rings. We will arrive into NZ's capital, Wellington. Wellington is famous for its high winds related to being on the edge of the Cook Strait where winds funnel between a gap in the mountains. it is also known for its architecture and design with water flowing through channels throughout the city, sculptures, cafes and cultural experiences. It is a lovely place for an evening stroll and exploration.
Day 8: Wellington
Today we will explore NZ's capital by visiting the Weta Cave (a mini-museum dedicated to the Academy Award winning company that brought Avatar, the Lord of the Rings, King Kong and Narnia to life), Te Papa (NZ's National Museum that is a landmark building along the harbor walk with interactive and spectacular displays of NZ Art, History, Maori Culture and Natural Environment that will amaze you), the Parliament House (known as the "beehive" for its unique shape where you will have a tour that explains how the government functions and how Maori values continue to be incorporated into legislation) and the Government Gardens (a composition of a variety of unique theme gardens, colorful plants and flora).
Day 9: Wellington - Kaikoura
It's an early start today so we can check-in at the Interisland Ferry for our voyage over the Cook Strait, leaving the North Island behind and venturing into the South Island of NZ. When we arrive we will drive along the coastline where we will watch sea lions. Kaikoura is a quaint town and known for its whale watching. This is a great scenic journey so have your camera ready.
Day 10: Kaikoura-Christchuch
Christchurch has recently become well known worldwide due to devastating earthquakes. The first major earthquake was on Sept. 4, 2010, which after months of aftershocks was followed by the devastating, fatal, earthquake on Feb. 22, 2011 that took 185 lives. Today we will go to the Antarctic Centre to experience what life is like in Antarctica and view the Little Blue Penguin.
Day 11: Christchurch - Mt Cook
Today we will travel inland stopping at Lake Tekapo, home to some of the most photographed scenery in New Zealand. We head onward to the Aoraki Mount Cook that is the highest point in NZ. In this small, isolated village you will be able to explore the Sir Edmund Hillary Center - named after a New Zealander who was the first to reach the top of Mount Everest. The Centre (same as "Center) has continuously running educational videos in it's multi-faceted theatre with domed screens and 3-D. During the day you can hike the Hooker Valley Track along glacier fed streams and crossing hanging bridges until you reach the Hooker Glacier Terminal Lake with flooding icebergs.
Day 12: Mt. Cook to Queenstown
We will then travel south to Omarama, known for their moonscape of the Clay Cliffs created as the result of two million years of erosion on layers of silt and gravel that were exposed along the active Osler fault line. Omarama is also famous for the Merino sheep breed with tribute paid to the large Merino sheep monument in town. On the way to Queenstown we will stop at a couple of local producers of fruit and ice cream and take a walk through the Queenstown Gardens. Our accommodation tonight is located on the lakefront and near town.
Day 13-15: Queenstown
Queenstown is the adrenaline capital of the South Island and packed with activities that are all within walking distance or vendors will pick you up from the accommodations. Parasailing, ziplining, luging, a day trip to the fijords are all opportunities you can enjoy at your own expense. Queenstown is also a great place to get your souvenirs. A great dining choice is the famous, giant "Ferg Burger." On Day 14, we will go to the Kiwibird Wildlife Park to learn about and see the real Kiwi-the nocturnal, native flightless bird and symbol of NZ. We bring our adventure to a close with a trip up the gondola to the best view in New Zealand where we will enjoy an amazing farewell feast. On Day 15 you will be escorted to the Queenstown airport for the flight back to Auckland and then to the U.S.