About the University of Stirling
The University of Stirling blends the best of Scotland's internationally respected educational heritage with the philosophies and structures of the American liberal arts system. The university has unrivaled flexibility in course choice and means of study and has consistently been ranked high in teaching quality.
Stirling, located in the heart of central Scotland, and less than 1 hour from both Edinburgh and Glasgow is home to the William Wallace national monument and picturesque Stirling Castle. The University of Stirling is just 2 miles from the city centre and has long provided a warm and friendly study environment which has encouraged many recent participants to extend the length of their study abroad experience. Upon application, students select three (usually 5 US-credit) courses from the broad range offered across a wide variety of subject areas and at varying levels. All instruction is by University of Stirling faculty and is normally a combination of lectures, small group seminars, presentations and practical classes. Field of study include Scottish History, Film and Media Studies, Politics, Religious Studies, Psychology, Business, Computing Science, Economics, Humanities, Biological and Environmental Sciences and English Literature. Housing is in a range of University-owned accommodation (flats or chalets) either on campus or in Stirling itself. Typically, the fall semester runs from September-December and spring from February-May. The summer academic program runs for 8 weeks from June-August and students can earn up to 7.5 credits.
The well-regarded British newspaper, The Guardian, commented: "Stirling's campus is stunning. The 310 lush acres include a loch, lovely rolling hills, a golf course and the 18th century Airthrey Castle. But it doesn't just look pretty. Stirling is one of Scotland's top universities, priding itself on flexible study."
Visit the city websites:
http://www.instirling.com
http://www.historic-scotland.gov.uk

The Brockport Program at Stirling offers you the opportunity to:
Live and study in the town of Stirling at a prestigious university,
Receive instruction in small classes, seminars, and tutorials from members of the Stirling faculty,
Choose the coursework you want from an almost limitless variety of disciplines,
Improve your writing and research skills.
Your experience at Stirling will:
Integrate you into Scottish society and the Scottish educational system,
Make you a better student,
Expand your outlook on the world,
Build your self-esteem and self-confidence,
Greatly enhance your career prospects.
At Stirling, you will:
Live with Scottish students in one of the university's halls of residence.
Receive a comprehensive on-site orientation to study at Stirling that will maximize the benefits of your semester/year of study.
Enjoy the security of a complete package of academic and non-academic support services provided by the International Office at the University of Stirling.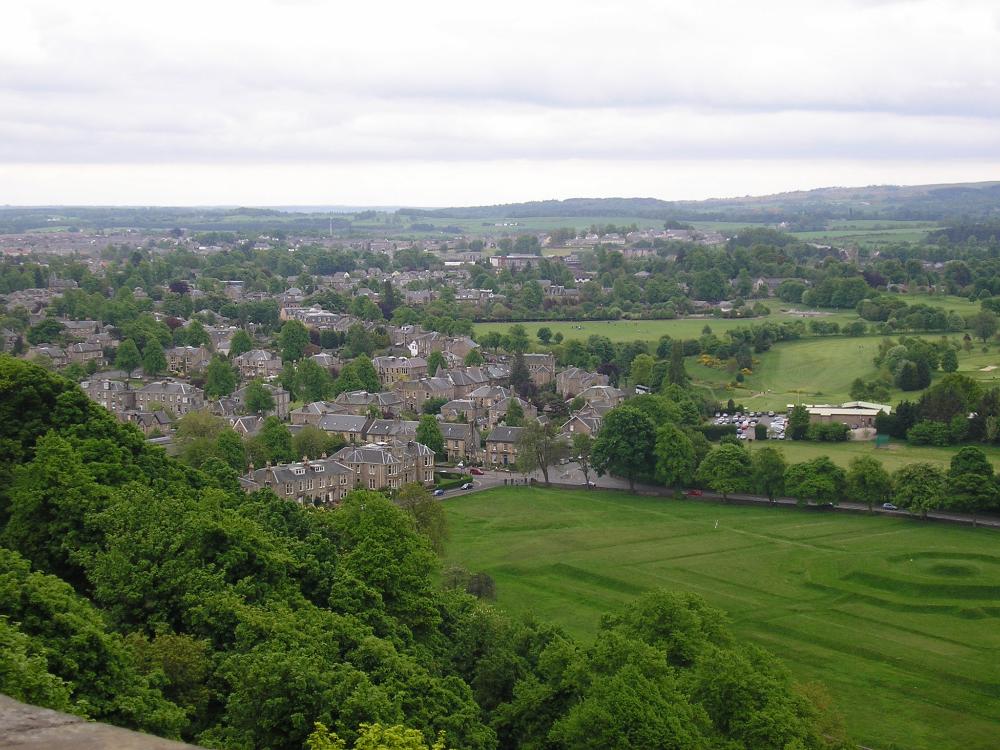 Housing & Orientation
Housing, Laundry & Dining:
Participants in the Brockport program at the University of Stirling are placed in single-occupancy rooms in on-campus housing. The majority of the halls are arranged as suites and have en-suite bathing facilities shared among members of the flat. The University has various laundry facilities located throughout the campus and central to the main residences. All have card operated washers and dryers. In the main laundry facility at Polwarth House, £4 buys a 12 point laundry card, which is swiped in the machines as they are used. Each wash costs four points and 20 minutes in a dryer costs 2 points.
Most students choose a combination of cooking for themselves and using campus dining services (please note that it is not possible to purchase a campus dining plan). Meals can be prepared in the self-catering kitchen facilities within the suites, or be purchased at the many on campus eateries. There are a variety of eateries, coffee bars and cafeterias on campus.
To shop for food, most students use either the Tesco or Sainsbury's supermarkets which are both situated in the city of Stirling near the main bus route. Many students find that if they take the bus and get off at Union Street, they find the stores that they need to cover most all of their needs during their time at the University of Stirling.
For students who wish to dine off-campus occassionally, both Stirling and the nearby town of Bridge of Allan have a great selection of places to eat. In Stirling, there are Chinese, Indian, Italian, Tex-Mex, French and other restuarants-- even Scottish! Most pubs offer good bar meals and there are a range of price levels to choose from for students. There are also many 'take away' places, including fish and chip shops, kebab houses, pizzerias, and both Chinese and Indian food shops. Coffee bars and cafes are also very popular around town.
Orientation:
Approximately one week before the start of each semester, the Study Abroad Office at the University of Stirling conducts an orientation program for entering students. The program is comprised of an introduction to campus and local services, academic orientation, and a tour of campus and the local area. This Welcome Programme is a compulsory part of each semester's program and students are expected to arrive in time to begin their studies at this time.
Theatre and Sport on Campus:
Theatre and film on campus:
The macrobert Arts Centre on campus proves to be a good place for students to fufill their cultural needs. The Centre is situated on campus and offers a 500-seat theatre, a brand new comfortable cinema seating 150, an art gallery, children's theatre, crèche and an excellent bar and bistro. The macrobert offers a very full and varied program embracing all types of artistic presentations aat a professional level. All students at Stirling qualify for discounted ticket prices. In addition, a brand new cinema named Vue has just opened in Stirling and is only a short taxi-ride from campus, or a short walk from the city center.
In the city of Stirling, the Top of Town area near Stirling Castle is home to the newly remodeled Tollbooth Theatre and Arts Complex (which includes restaurants). It is in Broad Street and offered smaller scale theatre and music events. Stirling also offers a thriving night life for students, as well as Glasgow and Edinburgh, two of the finest cities in the UK, less than an hour a way by train. Truly, the social opportunities are endless.
Sports on campus:
Stirling takes sport seriously as well as regarding it as fun--if you are looking for a high standard of competitive sport, you will likely find it at Stirling! The University is ranked in the UK top 10 for men's competitive sport. For example, some of the teams are UK or Scottish champions. Recently, the men's golf team defeated the USA NCAA champions. There are also many opportunities for those who would like to enjoy sports, but at a less-competitive level.
The Gannochy Sports Centre, situated in the playing fields, is the hub of University sport at Stirling. The Centre includes a new 50-metre swimming pool which is home to the Scottish Swimming Team and offers both recreational and competitive swimming, three squash courts and a new fitness room. The sports hall can accomodate eight badminton courts and can be divided off to take two full sixe volleyball or basketball courts. In addition, the Sports Centre is also linked to the National Tennis Center with four international-standard indoor courts as well as outdoor courts. The University Fitness Centre has undergone a recent expansion to the cardiovascular and free weights areas, making it an ideal location for students interested in personal fitness. Upon payment of a membership fee, study abroad students can join the Sports Union and it's asscoiated clubs. if you are only studying at Stirling for one semester, there is a discount on the joining fee.
Out of doors there are soccer, rugby and hockey pitches, a running track and four floodlit all-weather tennis courts. Airthrey Loch, in the center of campus, is used for angling and canoeing. There is also a 9 hole golf course alongside the residences. In short, opportunities for sport are tremendous for Stirling students and in addition, the city itself also offers soccer, rugby, tennis and cricket facilities, an ice rink, a bowling alley and many golf courses!
Cost
Fees for Brockport's University of Stirling, Scotland Semester Program
Budget Sheet for Undergrad Program: (Fall 2019)
$10,165.18 (
Estimated
)
INCLUDES:

TUITION (at Brockport and at the University of Stirling)
Program acceptance fee
Pre-departure orientation materials
On-site orientation upon arrival at the University of Stirling
Stirling's Study Abroad Office Support Services
Brockport's Study Abroad Office Services
SUNY International Health Insurance*
Various campus-specific fees** (college fee, technology fee, etc.)
DOES NOT INCLUDE:
Airfare to and from Scotland (or from Scotland to/from Europe)
Travel while in Scotland
Passport
Housing
Meals
Textbooks and Supplies
Personal Expenses
As a very rough guide, a participant in the Brockport Stirling Program will need around £500 to £600 per month to pay for daily local travel, textbooks and other school supplies, entertainment, meals and other necessities.
This estimate does not include the purchase of clothing; travel in Britain or Europe outside of the excursions/field trips organized by the program
The actual amount that you will spend depends heavily on your style of living, and will vary with each individual's personal spending habits, entertainment preferences and travel choices.

Note: We strongly recommend that you purchase trip insurance to cover loss of luggage, cancelled/missed flights, missed/cancelled program, etc. In the event that you cannot attend a program (for example, with a medical emergency or U.S. State Department Travel Warning), such insurance can cover loss of program fees resulting from a cancelled program.

Financial aid applies towards fees. Please be sure to check with the Financial Aid Office at your home school. If applying or receiving financial aid, you will need to give the Financial Aid Office (at your home school) a copy of your acceptance letter and budget sheet.

---

*The SUNY International Health Insurance is mandatory and will be included on the student's Brockport invoice.
**Varies depending on the SUNY campus at which the participant pays tuition.

The cost (and items included in the cost) as listed on the website are subject to change and should be considered estimates. Final budget sheets will be mailed to the student prior to departure and usually upon acceptance.
Courses
Courses are available in the following departments at Stirling:
(*please note that course availability may depend on class year and other pre-requisites)
Accountancy & Finance
Applied Social Science
Aquatic Science
Biological Sciences
Business Studies
Computing Science
Criminology
Ecology
Economics
Education (introductory level only)
English Studies
Environmental Science
Film & Media
French
History
Human Resource Management
International Politics
Journalism
Law
Management
Marketing
Mathematics and its Applications
Nursing & Midwifery
Philosophy
Politics
Psychology
Public Sector Management
Religious Studies
Scottish History
Scottish Literature
Sociology/ Social Policy
Spanish
Sports Studies/ Sport and Exercise Science
Visit their website: http://www.stir.ac.uk/undergraduate-study/course-information/courses-a-to-z to see the classes available at the University of Stirling. Please note that, as the website indicates, there are restrictions and requirements for some classes, and not every class is offered every semester.
Credits:
Participants in the Brockport program at the University of Stirling will normally earn five credit hours for each course successfully completed, for a maximum of fifteen credits per semester.
Curriculum:
The University of Stirling is the only Scottish university to be founded on the American Liberal Arts System and the semester schedule. As a result participants in the Brockport program at Stirling will be allowed to choose 3 courses a semester, from either one discipline or mix-and-matched from the full range of academic disciplines available at Stirling.
Stirling also has a responsive pre-approval system, so that students have guaranteed entry into specific courses before they arrive. The "true" semester system allows students in either semester to complete all of their work, including final assessment before they return home. In all cases participants will be examined in the same manner, and to the same standard, as their Scottish counterparts.
Dates
Fall 2019 (est): September 9th 2019 - December 16th, 2019
Spring 2020(est.): January 13, 2020 - May 29, 2020
Important note: Please do not book your travel arrangements until you have received the official Travel Memo from your program advisor.