The Accademia Italiana is an international art and design institute with campuses in Florence and Rome, Italy. Founded in 1984, the Accademia was the first Florentine school of art, fashion and design operating on an international level, accepting students from all over the world and from every region in Italy. Today it ranks as one of the most qualified European institutes of artistic and professional training. Graduates of the Accademia are currently occupying important roles in design industries and have received substantial recognition in their professional fields.
The Accademia also offers an extensive list of liberal arts courses at both centers, allowing the US study abroad student to experience a truly Italian and international
experience living and studying together with students from all over Italy and all over the world.
The Accademia Italiana offers Bachelor's programs and some Master's programs in the fields of Fashion and Costume Design, in Interior and Product Design, Graphic Design, Jewelry Design, Photography and New Media.
The programs "study in Italy" offered by the Accademia Italiana are considered among the best offered at an international school present in Italy in terms of academic quality and student services.
Watch an introduction video to learn more about the school in Florence:
https://www.youtube.com/watch?v=PDCBNDt3uAg
Watch a clip from the 2019 fashion show:
https://www.youtube.com/watch?v=psuJqWt67DI
Housing & Orientation
Housing:
The Accademia Italiana has long-term relationships with the landlords, most of whom have been leasing exclusively to Accademia students for years. Accademia Italiana staff inspect the conditions of all apartment prior to the start of each term/program and are available to facilitate communication between students and apartment owners throughout the term/program.
Orientation:
The program at Accademia Italiana starts with with a 2-3 day, comprehensive orientation session. Orientation activities are led by multiple members of the on-site staff and include an introduction to student services staff and resources available to students at her Florence school or Rome school, addresses what to expect during the study abroad experience as well as safety, security and health while in Italy and Europe, assistance with obtaining a resident's permit, and telecommunications options including information about computer lab facilities and cell phone providers. Students register for academic courses and are led on tours of the school buildings and facilities and the host city which highlight many typical day-to-day destinations such as daily markets, post offices, public transportation hubs, pharmacies, and more key essentials to help you get your bearings. You will learn more about the discounts available to you as an Accademia Italiana student at a number of book and art supplies stores, clothing stores and restaurants as well as local gyms.
Cost
Fees for Brockport's Italy: Accademia Italiana Semester Program

Budget Sheet for Undergrad Program (Fall 2019): $11,765.18 (Est.)

Budget Sheet for Undergrad Program (Spring 2020): $11,465.10 (Estimated)


INCLUDES:
TUITION
Program acceptance fee
Pre-departure Orientation Materials
On-site Orientation Program
Assistance in finding housing
Brockport's Study Abroad Office Services
SUNY International Health Insurance*
Various campus-specific fees** (college fee, technology fee, etc.)
DOES NOT INCLUDE:
Airfare to and from Italy
Passport
Student Visa/permit of stay
Roundtrip airfare & hotel in New York City (visa appointment)
Housing
Meals while in Italy
Textbooks/supplies
Personal Expenses
As a very rough guide, a participant in the Brockport Accademia Italiana Program will need around $400 to $500 per month to pay for daily local travel, textbooks and other school supplies, entertainment, and other necessities.

* This estimate does not include the purchase of clothing; travel in Italy outside of the excursions/field trips organized by the program.


The actual amount that you will spend depends heavily on your style of living, and will vary with each individual's personal spending habits, entertainment preferences and travel choices.

Financial aid applies towards fees. Please be sure to check with the Financial Aid Office at your home school. If applying or receiving financial aid, you will need to give the Financial Aid Office (at your home school) a copy of your acceptance letter and budget sheet.

*The SUNY International Health Insurance is mandatory and will be included on the student's Brockport invoice.
**Varies depending on the SUNY campus at which the participant pays tuition.
The cost (and items included in the cost) as listed on the website are subject to change and should be considered estimates. Final budget sheets will be mailed to the student prior to departure and usually upon acceptance.
Courses
Credits:
Participants will normally earn 12-16 credits for a term at Accademia Italiana.
Courses:
The Accademia Italiana offers the possibility to choose from courses in the School of Design or the School of Liberal Arts, or students can combine coursework from both. Courses are taught in English or are bi-lingual (Italian and English). The liberal arts department also offers Italian language courses at all levels.
For a list of courses being offer 2020-2021, click here:
AI Course List 2020-2021.pdf
There PDF above will list whether a course is offered in spring or fall. If there is no indication, that means the course is offered both semesters.
For Course Descriptions, see below:
For more information about Accademia Italiana's study abroad program in Florence and Rome click here:
https://www.accademiaitaliana.com/en/study-abroad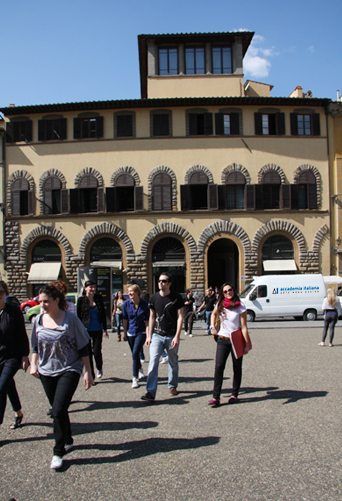 View a list of the possible academic subjects offered by Accademia Italiana as well as all of Brockport's university programs in Europe, here:
Academic Subjects- Programs in Europe.pdf
Dates
Fall 2020 (est.): September 9th - December 18th

Spring 2021 (est.): January 13th - May 15th



Important note: Please do not book your travel arrangements until you have received the official Travel Memo from your program advisor.