Denmark: Aarhaus University (BROCKPORT STUDENTS ONLY)
---
---
About Aarhaus University
---
The university was founded in 1928 and today it has several world class research fields.
Aarhus University (AU) is a top ten university among universities founded within the past 100 years. It has a long tradition of partnerships with some of the world's best research institutions and university networks.
AU has a strong commitment to the development of society that is demonstrated through its collaboration with government agencies and institutions and the business community.
The university's goal is to contribute towards solving the complex global challenges facing the world. The university therefore strives to combine the high level of academic standards of its researchers with collaboration across disciplinary boundaries to combine research in new ways.
This takes place in close contact with the world around us and creates the basis for the university to be internationally competitive within the areas of research, education, talent development and knowledge exchange.
The Brockport Program at Aarhus University offers you the opportunity to:
Study in Denmark at a well established University,
Receive instruction in small classes with one on one attention,
Have a total integration with students from Denmark as well as international students.
Your experience at Aarhus University will:
Integrate you into Denmark society,
Make you a better student,
Expand your outlook on the world,
Build your self esteem and self confidence,
Greatly enhance your career prospects.
At Aarhus University you will:
Live with students from Denmark or international students in one of the university's dorms or private off-campus rooms,
Receive a comprehensive on-site orientation to study at Aarhus that will maximize the benefits of your semester of study,
Enjoy the security of a complete package of academic and non-academic support services provided by Aarhus University
Visit their website at:
http://www.au.dk/en/
For more information about Exchange at Aarhus, please visit:
http://www.au.dk/en/exchange/welcome/?
---
Housing and Orientation
---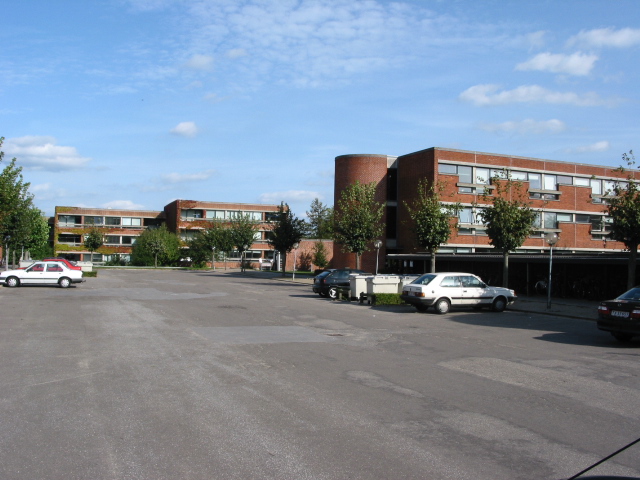 Housing:
In Aarhus students don't live on campus and few students live in the city center where prices are very high. You must prepare yourself for commuting to/from campus by bike, bus or train every day. From most dorms it will take you a maximum of 30 minutes.
IF you want a specific location of your new home, or a room close to campus, you should NOT apply for housing via AU Housing, but instead yourself find a room at the private market. It is not very easy, and we recommend that you start house hunting 2-3 months before arrival. There is no tradition in Aarhus for finding a room after arrival, and we STRONGLY recommend that you don't arrive without having a place to stay.
Link for housing application:
http://www.au.dk/en/internationalcentre/housing/typesofhousing/residences/
Orientation:
Last years' orientation packet:
http://studerende.au.dk/fileadmin/studerende.au.dk/Arts/Studiestart_2017/Arts_TV/Orientation_Week_Programme_2017.pdf?
---
Cost of Program
---
Fees for the Brockport Aarhus Program:
Budget Sheet for the Undergraduate Exchange Program
(Spring 2020)
$4,765.02
(Estimated In State Program Cost)
$9,355.02
(Estimated Out-of-State Program Cost)
The cost of the Program includes:
Tuition
Campus fees (college and technology fee)**
SUNY International Health Insurance***
Pre-departure orientation materials
An on-site orientation program at Aarhus
Advisement and Counseling
Aarhus Study Abroad Office services, and
Brockport's Study Abroad Office services
Does not include:
Transportation to and from Denmark
Danish Residence Permit
Housing
Passport
Meals and Living expenses
Text books and supplies
Miscellaneous expenses (this includes entertainment, travel while in Denmark, laundry, postage, etc.)
The actual amount that you will spend depends heavily on your style of living, and will vary with each individual's personal spending habits, entertainment preferences and travel choices.
Financial aid applies towards fees. Please be sure to check with the Financial Aid Office at your home school. If applying or receiving financial aid, you will need to give the Financial Aid Office (at your home school) a copy of your acceptance letter and budget sheet.
**Varies depending on the SUNY campus at which the participant pays tuition.
***The SUNY International Health Insurance is mandatory and will be included on the student's Brockport invoice.
The cost (and items included in the cost) as listed on the website are subject to change and should be considered estimates. Final budget sheets will be mailed to the student prior to departure and usually upon acceptance.
---
Courses
---
For more information regarding Courses at Aarhus University, please visit
https://bachelor.au.dk/en/
---
Dates
---
Fall 2020 Dates (ESTIMATED):
August 25th, 2020 - January 30th, 2021
Spring 2021 Dates (ESTIMATED):
January 31st - June 30th, 2021
***For more information, please visit the Aarhus website. Once accepted into the program, you will receive information regarding program arrival and departure date.
***DO NOT BOOK TRAVEL ARRANGEMENTS until you have received an official Travel Memo from our office. This is generally sent 6-8 weeks prior to program arrival.