About De Montfort University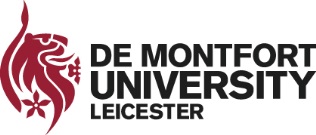 De Montfort University (DMU) has a vibrant and friendly international community, and they welcome applications from students from all over the world. Currently, DMU encompasses staff and students from more than 130 nations, proudly delivering a diverse and welcoming campus to students. Alongside the outstanding teaching environment, DMU offers an unforgettable experience providing extra-curricular activities, festivals, celebrations and on-campus events for all students to get involved in and a great way for students to meet new people and friends!
De Montfort University program offers you the opportunity to:
Live, study and work in a multicultural and welcome city in the center of England,
Receive instruction in small classes, seminars, and tutorials from members of the faculty of De Montfort University,
Have guaranteed on-campus accommodation at the Liberty Court Halls of Residence,
Become an actibe member in one of 130+ sports clubs of societies
Learn from a university that achieved the Gold, the highest ranking possible in the 2017 Teaching Excellence Framework,
Have total integration with students from De Montfort University as well as international students.
Your experience at De Montfort University will:
Integrate you into British society and the British educational system,
Make you a better student,
Expand your outlook on the world, and volunteer in the community,
Build your self-esteem and self-confidence,
Greatly enhance your career prospects
At De Montfort University, you will:
Have guaranteed on-campus accommodation at the Liberty Court Halls of Residence,
Receive a comprehensive on-site orientation to study at De Montfort University that will maximize the benefits of your semester/year of study,
Enjoy the security of a complete package of academic and non-academic support services provided by the International Office at De Montfort University, and Brockport's Office of Education Abroad
NOTE: US Citizens do need a visa in order to study in the UK but do not typically have to apply for one ahead of time if they hold a US passport (the visa will be issued upon entry in the UK with proper documentation and is free of charge). If a student plans to stay in the UK for longer than 6 months, work, intern or volunteer off-campus, they will need to apply for a visa before they leave the United States. In addition, students who are not US citizens (do not hold a US passport) may have to apply for prior-entry clearance. If a student studying abroad on this program does need to apply for a visa ahead of time then after being accepted to the program, Brockport will help guide you through the application process.
For further information about UK visas, please visit:
http://www.ukba.homeoffice.gov.uk/visas-immigration/visiting/student/visa/#
The City of Leicester
DMU is located in the city of Leicester, which can be found in the center of England. Leicester is well-connected to major cities such as London, Nottingham and Birmingham. With only a half an hour from East Midlands International Airport, DMU is the perfect location to see the rest of the U.K. and Europe. As a city university, the DMU campus is less than five minutes' walk from hundreds of shops, cafés, restaurants, pubs, clubs, cinemas, gig venues and a world-class theater. Leicester has been named as one of the best cities in which to live and work in the UK, according to the 2016 Good Growth for Cities Index.
Leicester City defied all expectations to be crowned champions of the Premier League and Leicester Tigers are one of the most successful clubs in English rugby. The city is also home to Leicestershire County Cricket Club and the Leicester Riders professional basketball team. Leicester has a thriving music scene attracting big-name bands and artists to venues such as the O2 Academy and De Montfort Hall. On campus you can relax in green spaces or by the canal. Beyond the city centre, you can visit Abbey Park with the remains of Leicester Abbey or Bradgate Park with wildlife and ruins of one of the oldest brick-built country houses in England. FOOD AND DRINK Leicester's multiculturalism is reflected in the diverse range of restaurants in the city, in particular the Belgrave area of the city. In addition, as a university city, Leicester has a thriving nightlife offering everything from high-end cocktail bars to traditional English pubs.
<iframe allow="accelerometer; autoplay; encrypted-media; gyroscope; picture-in-picture" allowfullscreen="" frameborder="0" height="315" src="https://www.youtube.com/embed/HSLJnPlq2So" width="560"></iframe>
Housing & Orientation
All exchange students at DMU are guaranteed accommodation (assuming they apply on time) at Liberty Court Halls of Residence which is a short distance to campus. All halls are self-catered and fully furnished, offering shared kitchens, laundry facilities and internet access. With on-site and on-call security, halls also have electronic door entry systems.

As an exchange student, there a wide range of support available that begins before students step foot on campus and continues right up until the time they leave. International Welcome Week (IWW) is provided for all students to make the most of their program. IWW will host sessions that focus on providing information on-
Support services at DMU
How to open a bank account
Working in the UK
Healthcare
Campus safety
Course registration
Buddy scheme *
NOTE: The Buddy Scheme is for students to matched up with a DMU student to help settle in and make the most of their experience. This is optional for each student, however the scheme runs on a first-come, first-serve basis, so students are strongly encouraged to apply early if interested
Cost
Fees for the Brockport De Montfort University Semester Program:

Budget Sheet for Undergrad Program: (Fall 2019)
$4,865.26 (Estimated NYS Resident Exchange Program Cost)
$9,265.26 (Estimated Non-NYS Resident Exchange Program Cost)

Budget Sheet for Undergrad Program: (Spring 2020)
$5,105.18 (Est. Exchange Rate for NYS Resident)
$9,315.18 (Est. Exchange Rate for Non-NYS Resident)

INCLUDES:
Tuition
Program acceptance fee
Pre-departure orientation materials
On-site orientation upon arrival to De Montfort Univesity
De Montfort's International Office Services
Airport Pickup
Brockport's Study Abroad Office Services
SUNY International Health Insurance**
Various campus-specific fees*** (college fee, technology fee, etc.)
DOES NOT INCLUDE:
Passport
Housing
Airfare to and from Leicester
Transportation while in the United Kingdom
Meals
Textbooks/supplies
Personal Expenses
Financial Aid applies towards program fees. Please be sure to check with the Financial Aid Office at your home school. If applying or receiving financial aid, you will need to give the Financial Aid Office (at your home school) a copy of your acceptance letter and budget sheet.
** The SUNY International Health Insurance is mandatory and will be included on the student's Brockport invoice.
*** Varies depending on the SUNY campus at which the participant pays tuition.
The cost (and items included in the cost) as listed on the website are subject to change and should be considered estimates. Final budget sheets will be shared with the student prior to departure and usually upon acceptance.
Note: We strongly recommend that you purchase trip insurance to cover loss of luggage, cancelled/missed flights, missed/cancelled program, etc. In the event that you cannot attend a program (for example, with a medical emergency or U.S. State Department Travel Warning), such insurance can cover loss of program fees resulting from a cancelled program.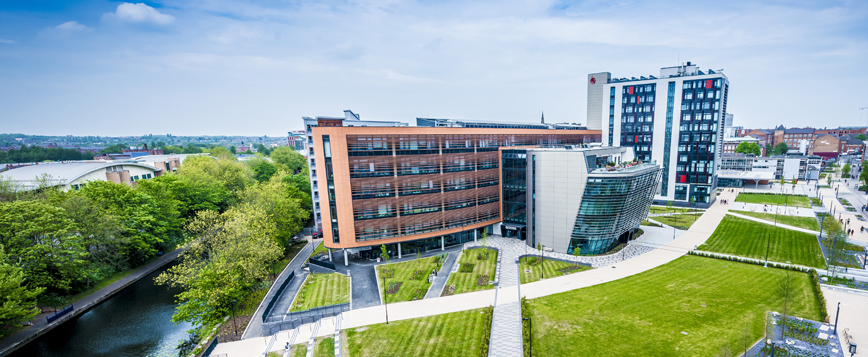 Courses
As an exchange student at DMU, students will belong to one of the four facilities, depending on the student's program of study. Each faculty delivers a wide range of courses to students as well as overseeing world-changing research and fostering enviable commercial links that inform our teaching and ensure DMU courses are relevant to modern employers.

DMU's four faculties are: Art, Design, and Humanities; Business and Law; Health and Life Sciences; and Technology. Within these Faculties are the following subjects:
Faculty of Art, Design and Humanities
Architecture
Design
Fashion & Textiles
Humanities
Performance Arts
Visual Arts
Faculty of Business & Law​
Accounting & Finances
Business & Management
Economics
Human Resource Management
International Relations & Politics
Law
Marketing
Faculty of Computing, Engineering & Media
Computing
Creative Design
Engineering
Film Studies
Journalism
Media
Music
Faculty of Health & Life Sciences
Allied Health Professions
Criminology and policing
Education
Psychology
Sciences
Youth Work Health
Exchange students can study modules from their subject area* and can choose 60 DMU credits per term (equivalent of 30 ECTS), and are expected to study full-time whilst at DMU, which equates to 120 DMU credits (60 ECTS). Incoming students will be provided with module information and module choice forms upon acceptance to study at DMU.
*Most programmes are open to exchange students, but some exceptions may apply.
For more information on the study areas available,
here
.
Dates
Fall 2019:
09/30/2019 - 12/13/2019 (est)
Spring 2020:
01/06/2020 - 04/27/2020 (est)